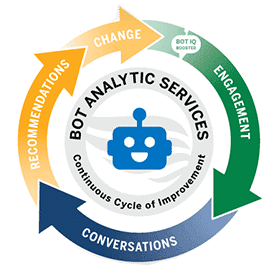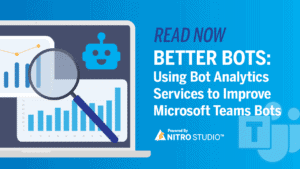 Bot Analytics Services are the next step after initial installation and configuration of a Microsoft Teams Bot. With the right guidance, a bot can improve with time. A "set and forget" model will not work with bots.
Getting information about bot performance
Crow Canyon's Bot Analytics Services provide critical statistics on the performance of Microsoft Teams Bots. The initial installation and configuration of a Microsoft Teams Bot is of course very important to get right. But, after that, it is crucial to get the information needed to continually improve the bot. Finding out where users get stuck or abandon the bot gives administrators guidance on how to tweak and adjust the Teams bots for better service to end users.
The Bot Analytics Services deliver data and insights to bot administrators in an easy-to-use interface. Statistical reports are displayed and recommended solutions are listed in a convenient dashboard. This powerful set of tools provides the information needed on where enhancements can be made to produce a "better bot".
Three Key Areas of Bot Performance
The Bot Analytics Services focus on three key areas:
Engagement: How many people use the bot and how often? Are these repeat users? What devices are used?
Conversations: What are the results of engagement? Are questions answered and issues resolved? What percentage of abandonment, unresolved, and dead-end conversations are there?
Recommendations: What steps can be taken to improve engagement? What can be done to improve resolution percentages?
Boosting the Bot's IQ
The Bot Analytics Services help boost the bot's IQ and increase its relevance. Admins don't have to spend days or weeks blindly adjusting rules and tweaking decision trees. The analytics provide an easy way to continually optimize the bot and maximize its performance.
With skill shortages affecting many organizations and with IT Departments stretched thin, a well-performing bot can provide substantial economic benefits. By automating the processing of routine queries and requests from customers and employees, many hours of staff time can be saved and put to better uses.
Crow Canyon's Bot Analytic Services help admins create an effortless bot experience for end users. The goal is to tailor a bot's interaction so that "questions" don't into "cases". Every time the bot gets it right, that is one less issue for staff to resolve!
For more information contact sales@crowcanyon.com or visit us at www.crowcanyon.com.