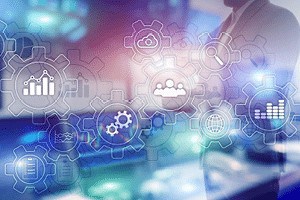 Business Process Automation (BPA) streamlines operations, increases productivity, and accelerates profits at organizations of all sizes and types. More and more, with technology evolving so rapidly, efficient process automation is critical for any business that wants to remain competitive.
That said, how can BPA be implemented? How can BPA fulfill its promise of greater efficiency? Let's take a closer look at the "macro" and "micro" aspects of business process automation and see if that gives us a framework to operate from.
Macro Business Process Automation – the Big Picture
Macro BPA refers to looking at the big picture. The leaders of the organization are aware of new technology and seek to bring it into the daily activities. They want to implement a platform that will provide the tools needed to spur automation throughout the company.
Currently, the move for many companies is to cloud and mobile. In the near future, it will likely be to AI and bots. So keeping those goals in mind, the leaders consider platforms that embrace those capabilities. One of the most popular platforms for this is Microsoft Office 365 & Microsoft Teams.
Adoption of Microsoft Office 365 has skyrocketed, with over a million organizations and 200 million monthly active users using it as of the end of 2020. At that same time, Microsoft Teams (part of Office 365) had 115 million monthly active users, a huge jump from a year earlier due to the Covid 19-related increase in the remote workforce.
Here at Crow Canyon Software, we built our NITRO Studio platform as a much-needed enhancement to the base Microsoft Office 365 & Teams offering. As it is, "out-of-the-box" (or maybe better would be, "out-of-the-cloud") Office 365 is not quite ready for business process automation. It needs the forms and workflow tools, along with the many other components, that we provide with NITRO Studio to turn it into a true Business Process Automation platform.
In addition, we have integrated NITRO Studio with Microsoft Teams, leveraging the collaboration power of Teams to drive automation. Not only can NITRO Studio work fully within Teams, we also provide an extensive set of Teams Bots that an organization can implement as it moves ahead along the technological curve.
Micro Business Process Automation – Focusing on Immediate Needs
Micro BPA focuses on one particular department, or even, one specific need. This usually starts from the bottom up rather that the top down. Instead of an edict from visionary leaders to implement a business-wide BPA solution, the urgency comes from one group in the organization suffering from processes in their realm that are just not working right.
Frequently, this is seen when questions, issues, or requests are not being addressed adequately. It could be from using emails and spreadsheets to manage a process and running into the limitations of those tools, or from using a legacy solution that worked well years ago but now is sorely outdated. (Microsoft's InfoPath Forms falls into this category and that is why we have developed our InfoPath Replacement tools and resources. The same resources can be used to replace Access forms, Lotus Notes, and other such legacy solutions.)
Our NITRO Business Applications solve many of these issues, bringing complete, modern solutions to replace poorly functioning processes. Our applications cover a wide-range of common business activities, such as service desk, request management, asset tracking, purchasing, onboarding, and contract management. They can be easily adapted to fit an organization's specific requirements.
All of our applications run on our NITRO Studio platform. An application is installed in one SharePoint Site and includes the full set of NITRO Studio tools for that Site. This allows the application administrators to modify and adapt the application as the requirements evolve.
From a Micro BPA standpoint, being able to quickly install and implement a well-vetted, modern solution provides immediate benefits. Once the process is replaced, the company will see increased productivity and smoother operations that bring value to both employees and customers.
Macro and Micro BPA Work Together
Macro BPA and Micro BPA are not mutually exclusive. Most organizations are working from both ends of this spectrum. We have worked with businesses looking to put as much process automation on top of SharePoint and Microsoft Office 365 as possible. They provision our NITRO Studio and then get to work automating all kinds of processes. We have seen much success with this approach.
At the same time, the organization may have specific processes that need updating and automation. With our Business Applications, we often can meet that need and provide a fully developed, ready-to-go solution that can be implemented quickly and effectively.
Using both the Macro and Micro BPA approaches gives organizations the options they need to bring the value and benefits of business process automation to their operations. The most important point is to get going on the BPA journey, as most likely the competition is already well down that path!