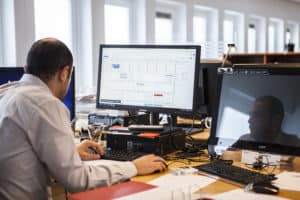 BPA or "Business Process Automation" provides many benefits to a company. Done right, BPA can streamline workflows, optimize operational efficiency, and increase productivity. With process automation, companies see better service to customers, employees are saved from routine and repetitive tasks, and overall operations run more smoothly.
While these are important benefits, we must not lose sight of the ultimate goal. "BPA" could just as well stand for Business Profit Acceleration. Increased productivity means more can be done with less time and effort. The result? More profits, or if you are in a non-profit or a government agency, better service to your members or citizens.
A company that invests in BPA as Business Process Automation gets BPA as Business Profit Acceleration. Simply put, improving business processes with automation leads to better financial results. Streamlined operations provide the force to drive profit acceleration.
A business is essentially a collection of people running processes and procedures to get useful work done. The more efficiently those processes run, the more work can be produced for the same or lower cost.
Customers will want to buy more from a company that can efficiently and cost-effectively meet their needs. Satisfied customers bring in repeat and referral sales. At the same time, happy customers will recommend the company's solutions and leave good reviews online.
Many companies move in this direction and find a solution that fits for a particular time and place. But technology moves on, and what was adequate at one time quickly becomes outdated. All too often, institutional inertia sets in – the cost of change and retraining becomes the focus instead of the benefits of a modern solution.
BPA cannot be a "set-and-forget" affair. It must be seen as an ongoing effort that requires continuous adaptation to an ever-changing technological environment. For a company to move forward and remain competitive, implementing modern BPA solutions and replacing old ones is mandatory.
How to do this? One example is our NITRO Studio BPA platform. NITRO Studio uses Microsoft Office 365, Teams, and SharePoint to automate many common business functions. If a process is currently being done via email or spreadsheets, NITRO's Forms & Workflows can be used to create a solution that is much more effective and engaging. NITRO Forms can also be used to replace outdated legacy programs such as InfoPath, Access forms, and Lotus Notes. NITRO Studio also offers ready-to-go applications. Does the organization need a Help Desk, a Purchasing system, Asset Management, HR Requests? NITRO Studio has these and several others, all using the power of the underlying NITRO forms and workflow components. In addition, NITRO Studio enlists bots and AI services to further automation.
An organization can move ahead in its BPA journey with NITRO Studio in whatever way fits its requirements. With the range of automation options available with NITRO Studio, a company can find the pathway to improved operations and better financial success. With the right tools, Business Process Automation turns into Business Profit Acceleration!
Is your company ready to embark on process improvement and profit acceleration? Contact us at sales@crowcanyon.com or 1-925-478-3110 for more information.
Note: NITRO Studio runs on Microsoft Office 365 as well as SharePoint on-premises (2013, 2016, and 2019).