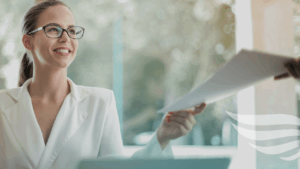 With approvals being a critical factor in many business process workflows, a forms and workflow solution must be able to handle both simple and complex approval processes with ease.
Crow Canyon's NITRO Studio, built for Microsoft Office 365, Teams, and SharePoint, provides robust approval capabilities that meet the needs of business process automation. Whether for approval to make a purchase, grant access, take leave, accept the terms of a contract, or any other business need, NITRO workflows and actions are easily configured to manage the approval process from initiation through to completion.
Types of Approval Workflows
Approval processes can be built in many different ways, based on the requirements of the workflow. These include:
Lazy Approval
One-Person Approval
Multi-Person Approval
Serial Approval
Parallel Approval
Lazy Approval
With Lazy Approval (also known as "auto-approval"), the person making the request is also authorized to approve it. This could be a VP looking to purchase items below a certain cost or an IT Manager approving a new project.
NITRO Studio can be configured to recognize when the requester is authorized to approve a certain type of request and then enact the approval process when the request is submitted.
The main purpose of lazy approval is to get a record of who created and approved the request so that everyone knows it is properly authorized. After creation, it moves right into the assignment and fulfillment phases.
One-Person Approval
One-Person Approval is a simple and common part of many workflows. Someone makes the request and one person, usually the person's manager or department head, reviews it and decides whether to approve it or not. The decision can be "approve", "deny/reject", or "send back for more information".
NITRO Studio can read the requester's manager from Active Director or the SharePoint User Profile and auto-fill the field on the request. If the approver is not the manager, NITRO can look up the approver from a SharePoint list or other source that correlates the request with an approver — such as "for access to SQL Database XYZ, the person who can approve access is the IT Manager". NITRO Forms can also offer the option to manually enter the approver's information.
The approver is notified by email or text (or in Microsoft Teams if that is in use) and can then register his or her decision. The requester is immediately notified. If approved, the request can be automatically moved to its next step using NITRO workflows. This could such actions as if a leave request was approved, inform HR, or if a purchase was approved, send the info to the purchasing department.
Multi-Person Approval
Multi-Person Approval involves several individuals or groups as well as different levels of approval. A number of criteria can be used to determine who needs to approve the request and what levels the approval must go through.
Every request, ticket, issue, etc., that needs approval has factors in it that can be used to decide how to route it. These depend on the type of request and can include cost, location, who is making the request, timing, etc.
It might be that purchases under $5000 go through one level of approval, those under $10,000 require two levels, and an amount above that require three levels. Or a request originating at a branch location may go through a different number of levels than one started in HQ. There can be any number of variations of the approval process, and NITRO Studio is designed to handle all of these.
At each level, there can be on or more people who need to approve, and this can be set up in these ways:
One of the people approves equals approval;
Some percentage or number of the people must approve;
All of the people must approve.
If approved at one level, the request moves to the next level until it passes all levels.
Serial versus Parallel Approval
In Serial Approval, a request goes from one person to another to another. This is like multiple approval levels, but it could be that even within one level, the request needs more than one approval and the approvals need to be done in sequence.
Let's say the request goes from the Team Lead, to the Manager, to the VP — all those are required for the approval, but they happen in sequence. If anyone in the chain denies it, it is not approved. This saves the VP from getting requests that the Team Lead or the Manager turned down.
With Parallel Approval, the request goes to everyone at the same level at the same time. Anyone can respond, and depending on the criteria for approval (one, some, all), it moves on from there to the next level or to the final stage.
What if the Approval Process Stalls?
Another concern is when an approver does not act. For this, NITRO Studio can send alerts and notifications and, if the person does not respond in time, other actions can be taken, such as escalate it up to someone else or return to user as not approved due to no response from approver.
Whatever the approval process is, NITRO Studio can handle it
NITRO Studio's forms, workflows, and custom actions act together to securely manage the approval process, whether simple or complex. NITRO Email Manager and SMS Texting work to keep everyone informed. And, if you are using Microsoft Teams, our NITRO Bot can be used to create the request, send it to the approvers who can then approve or reject it via Microsoft Teams.
With all the components of NITRO working in conjunction, you can manage the critical approval processes required in many business workflows with ease and confidence.
_____________________________
Ready to give NITRO Studio a try? Contact us at sales@crowcanyon.com