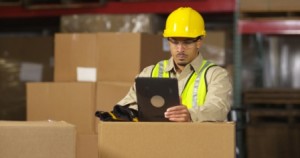 Two essential components to making a company run smoothly are a good team of quality workers who are effective in their roles and modern, fully functioning equipment that allows employees to efficiently carry out their jobs.
Managing equipment in the business world can be a hassle, especially without well-designed tracking software. Having a specific program or module that can correlate all of the data concerning the different types of company equipment greatly affects their servicing and retention. Fortunately, having a standalone module for tracking equipment is entirely possible, and most effective when hooked into a greater architecture, such as SharePoint, which can collect and utilize data more effectively.
Helpful Features of Tracking Services
Equipment tracking software does a great deal to streamline the functions of a company, from both logistical and technical sides. Firstly, it catalogues the computers and other office equipment on a particular site into an easily accessible database; it goes beyond simply recording the products' names. Everything from serial numbers to replacement part numbers are logged, so any possible issues regarding equipment can be dealt with quickly and tracked with ease.
In the case of a company laptop, for example, equipment tracking shows who the machine has been assigned to and for what purpose. Keeping tabs on where this equipment travels is helpful if, for instance, the computer needs to be handed off to another worker or requires servicing. In every case, it's all about having as much centralized information as possible regarding company assets.
How Does SharePoint Interface with Tracking Software?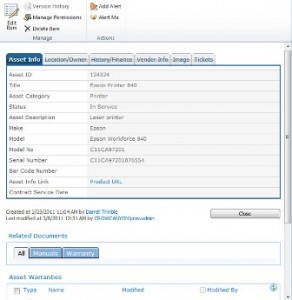 The advantages of dropping an equipment tracking service into a SharePoint-based service request system are numerous. On a basic level, the most important aspect is correlating the SharePoint help desk application's automated features with the tracking software's data. The architecture of the application allows for ever-present access to constantly updating data about a company's equipment. This enhances the effectiveness of IT to diagnose a problem or get a machine back into the hands of an employee without unnecessary delay.
When IT receives a ticket concerning a piece of equipment, the ticket automatically gets logged into the SharePoint service request. If the service request system is integrated with asset tracking software, information about an asset can be accessed immediately. This detailed record of the equipment's life cycle, including service history, can be especially effective in troubleshooting the current issue as well as preventing future ones. The combination of SharePoint and tracking software makes for one smart team!
Creative Commons Attribution: Permission is granted to repost this article in its entirety with credit to Crow Canyon Systems