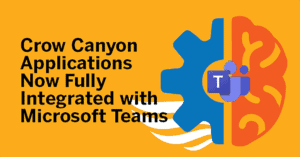 We are proud to announce that our business applications now come with full integration with Microsoft Teams. This brings the collaborative power of our applications, and our NITRO Studio, to the popular Microsoft Teams platform.
Self-Service Bot for Teams
End users will be able to engage with our Self-Service Bot to get immediate answers. Through the use of AI and back end knowledge bases, users can interact with the Bot and be guided to possible solutions to their issue or request.
Users will also be able to create requests and tickets in this Teams Bot. Using a simple form, they can enter in their issue and send it to the Support Desk. User can also view the status and history of their existing requests.
For example, a user could have an issue with a printer. He or she can ask the Self-Service Bot for some possible answers using the friendly, conversational interface. If the Bot does not provide an answer, the user can proceed seamlessly to creating a ticket, all within Teams.
End users will get quicker answers and the staff will see its work load decrease. Over time and with usage, the Bot will get better at answering user inquiries. The Bot is always available, running 24×7 and never taking a vacation.
Support Staff Bot for Teams
From the staff or technician side, our Support Staff Bot will notify support staff of any new ticket and any changes to existing tickets. The Bot allows techs to manage tickets from within Teams. They can view their tickets, assign or reassign them, add notes to work log, and close the ticket.
Staff can do most of the ticket management through the Teams interface, while having the option to work in the SharePoint back end when needed.
The end user Self-Service Bot and the Support Staff Bot bring true collaborative capabilities to Teams. They help organizations run more efficiently by speeding up response times and reducing staff load. These Bots turn Teams into a true engine of productivity!
New Teams-related Features in NITRO Studio
In addition, we have added Teams features to our NITRO Studio application creation platform. NITRO Workflows and Custom Actions now have these new capabilities:
With full Microsoft Teams integration, we are bringing companies the best of both worlds – the expanded features and capabilities of our business applications and NITRO Studio along with the collaborative engine of Teams!
Watch the webinar on demand to learn more – or contact Sales for a demo!
To see the full Press Release, read here.