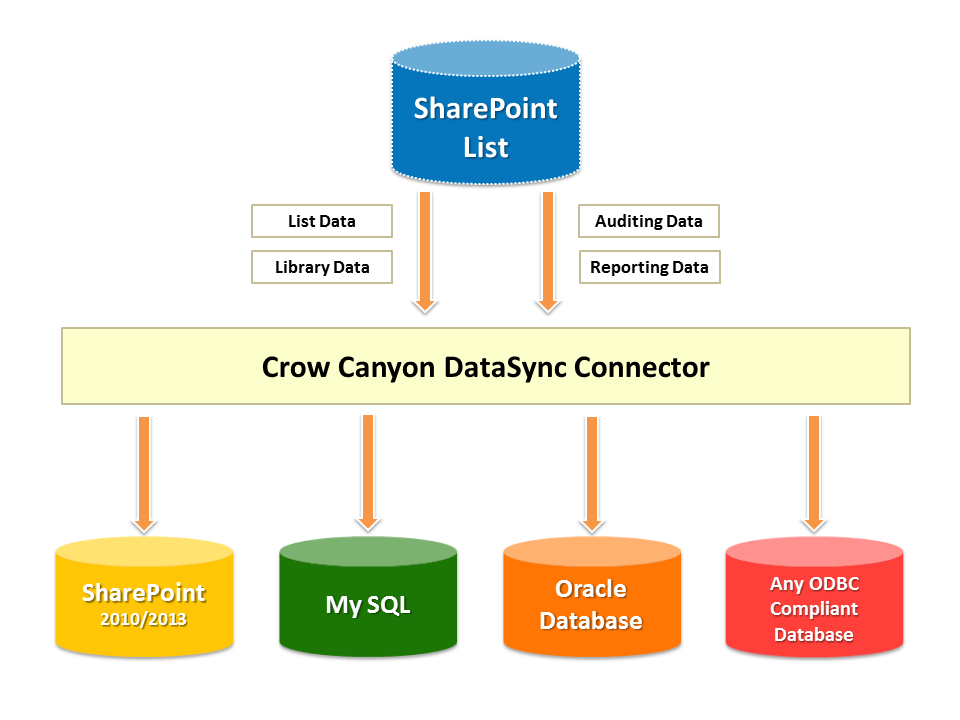 Benicia, CA (PRWEB) May 20, 2014
Crow Canyon Systems, a premier provider of business applications for SharePoint, announces the release of its new SharePoint Data Sync tool for Data Synching and Auditing Tool for SharePoint. The tool provides full export and syncing of SharePoint list data – including version history — to any ODBC-compliant database.
The DataSync Tool exports list data plus versioning details such as who modified what list item, what fields were changed, and when. The tool can be used on any list or library – tickets, assets, contracts, projects, etc. – to show the history of modifications as well as the current data. Using this information, comprehensive and detailed reports can be generated using familiar reporting tools like Crystal Reports and SQL Server Reporting Services.
"Auditing of SharePoint list and libraries allows you to know who changed what and when," said Scott Restivo, CEO of Crow Canyon Systems. "Organizations can perform in-depth analysis of SharePoint data to guide business decisions and meet regulatory and compliance requirements."
Crow Canyon's DataSync and Auditing Tool for SharePoint works with SQL Server, MS Access, and other ODBC-compliant databases. It runs on SharePoint 2010 and 2013. The tool comes with a 30-day trial period. More information can be found at https://www.crowcanyon.com/products/datasync-and-auditing-for-sharepoint/.
About Crow Canyon Systems
Crow Canyon provides a portfolio of powerful SharePoint business process applications to help organizations dramatically improve their business process and flow. Solutions include IT Help Desk Support, Customer Service Requests, Facilities Maintenance and Asset Tracking. The Crow Canyon staff has developed a reputation for quickly tailoring each application to the specific needs of its clients, without the heavy price tag and long deployment times usually associated with custom installations. Their skill and dedication to meet each client's unique needs has consistently earned them high marks from their client base and on published software review sites.
For more information, please visit https://www.crowcanyon.com or call 925 478-3110.