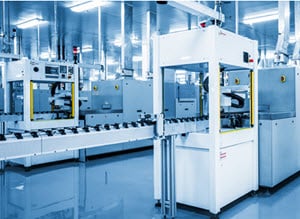 Recently, a manufacturer of "industrial computers" approached us with a need for a system that provides support and service of the computers it builds and send out to its customers.
The company's specialized industrial computers are a breed of their own in terms of maintenance, customized equipment, repair, operation, and upgrades.
These computers differ from normal "every day computers" in many ways:
Heavier metal construction
Special provisions for mounting to racks, walls, panels, etc.
Expanded cooling and environmental mechanics designed to widen the system's operating temperature range (e.g., -40° F to 175° F)
Alternative cooling methods, such as forced air, liquid, and conduction
Enhanced environmental protections, such as dust proofing, water proofing, heat protection, and so on
Increased physical security and infrastructure, such as locked doors, robust controls, higher grade power supply, etc.
Let's explore this company's specific needs and how our SharePoint-integrated solutions help it provide superior service to its customers.
A Need for Quick, Responsive Customer Support Using SharePoint
Our client required a solution that could address both first-level phone and email-based customer support and second-level "return-to-manufacturer" service needs. First-level support personnel needed a way to efficiently handle customer support inquiries, from initial request to resolution. In addition, our client needed a way to handle cases where the specialized computer had to be returned for service or replacement. The client wanted the solution to seamlessly integrate with Microsoft SharePoint.
After analyzing our client's requirements, we recommended a two-tier system. The front-line system would be a customized version of our Customer Support platform designed to make sure all customer issues were handled promptly and effectively. The second-line system would be a customization of our Work Order Management system with the capability to issue Return Merchandise Authorizations (RMAs), track shipping, generate repair quotes, and manage the customer-approval process.
First-Level Support: Engaging with Customers and Resolving Issues
The overall goal of the front-line customer support system was to use intuitive and automated tools to help save time, money, and effort for our client. Our Customer Support application, which integrates fully with Microsoft SharePoint, manages all aspects of customer interaction from initiation through the resolution process.
Key features used by our client include:
Issue Receipt / Ticketing: Crow Canyon's Customer Support system automatically converts all customer-created communications into a ticket format, which can then be managed as the support workflow commences. In this case, our client's customers typically contacted them via telephone and e-mail. On receipt, the newly-created ticket is populated with key initial data, such as name, time, date, and the issue content.
Automated Routing & Tracking: After receipt, the customer ticket is automatically routed to the most appropriate support technician based on pre-configured settings. Crow Canyon's Customer Support solution tracks the ticket as it automatically moves between recipients, recording all details before, during, and after approval until the ticket reaches final resolution.
Helpful Content: Our client's support personnel are able to take advantage of knowledge base articles, manuals, and documentation in order to assist them with customer responses. The Customer Support platform includes easy accessibility features that enables support technicians to quickly retrieve specific content during issue resolution.
Second-Level Service: Managing Returns and Repairs
When one of the computers is beyond the help of front-line support, it must be returned to the manufacturer for repair or replacement. Our support system allows escalation of cases that could not be resolved by front-line support to the service desk; all information on the work done by first-level support staff is available to the second-level service team.
For the client's service desk, we implemented a robust platform that manages the return and service of a faulty device. The service process requires authorizations, documentation, quotes, shipments, approvals, and a number of other steps.
Like the support platform, our service desk solution uses automated workflows to ensure that hardware returns and refurbishment work is done without mistake. This stage of customer engagement can become quite complex, with a series of actions that need to be juggled to guide the customer towards a successful outcome.
Some of the key functionality our client wanted include:
Issue RMAs and Repair Quotes: An RMA number represents an authorization from the manufacturer to ship a faulty item. Our client uses the service desk platform to manage the RMA issuance process as well as all associated workflows (e.g., providing repair quotes). Like the support desk, all communications are transformed into tickets, which are then automatically routed and tracked as they go through approval processes. The easy-to-use dashboard interface enabled management to immediately view critical information, such as outstanding RMA requests, queued repair quotes, and items awaiting shipment.
Customer Interaction: Resolving a service ticket typically requires some amount of back-and-forth customer communication. Many companies rely on e-mails and attachments to handle discussions, both of which are prone to human error and can pose security risks. Our client was able to use the service desk's self-contained ticketing environment to easily communicate with its customers with the knowledge that every single communication—and all associated data—was automatically saved. This was particularly useful when arranging shipments and securing customer approvals for repair quotes.
Successful Support and Service Fuels Manufacturer's Success
Our client faced two significant, and interconnected, challenges: maintaining industry credibility as a world-class manufacturer of highly-specialized industrial computers and engaging with customers more effectively in terms of both support and service. To achieve the former, our client needed to first accomplished the latter.
Crow Canyon's SharePoint-integrated solutions help this manufacturer to efficiently work with its customers while facilitating the success of the support and service teams. Automated workflows and centralized communications ensure the smooth operation and customer engagement plan while burnishing the company's reputation as an industry-leading manufacturer of specialized computer systems.
—
Crow Canyon Software delivers the power of a connected, digital workplace to your organization, helping you be more successful and competitive. We provide the tools that allow you to gain the maximum benefit from SharePoint and Office 365, Microsoft's premier collaboration platforms.
Want to learn about how our business productivity applications for SharePoint and Office 365 can power up your organization? Give us a call at 1-925-478-3110 or contact us by e-mail at sales@crowcanyon.com. We look forward to hearing from you!