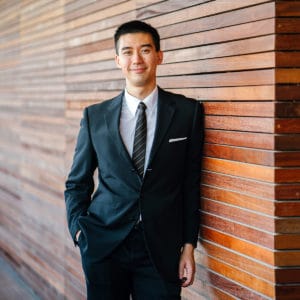 Are you using Delve to create your corporate profile? Designing a new PowerPoint lesson plan using Mix? Maybe you're using Sway to craft a new interactive presentation?
Delve? Mix? Sway? Don't worry, you're not the only one who knows little if anything about these new additions to Office 365. In this article, we will explore these apps, discuss their intended purpose and try to figure out what they are all about.
Delve
Delve is Microsoft's foray into an "AI (Artificial Intelligence)-based social platform for intranets". Delve is built on Microsoft's Office Graph, which in turn is a framework and platform that surfaces data based on user identity and activity. Office Graph uses machine learning and artificial intelligence to search content in Office 365 (such as OneDrive and SharePoint Sites) to discover information that is (in theory) relevant to individual users. Delve then uses that data to populate a social media-type platform in your Office 365 tenancy. It can also include manually inputted data such as the user's interests, supervisor, contact details, photo, personal blog, etc.
Combine LinkedIn and Facebook, toss in some machine-learning algorithms, put it on your intranet, and you have something close to Delve. Right now it's entirely Office365-based, but it may support on-premises SharePoint content in the future (i.e., become hybridized). Delve is also accessible to iOS and Android mobile users.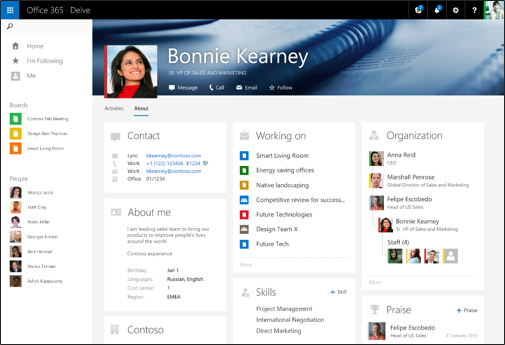 Will Delve have a bright future? Partly, it depends on whether Delve catches on at the enterprise level. Any type of social platform relies on the "network effect" — that is, as more people use it, it becomes more compelling for others to join also. If there are no company initiatives from the top-down to drive usage, then Delve instances may become ghost towns. Not everyone's social world revolves around the workplace, so an intranet-based social platform may not light the "fire of participation" among the rank-and-file.
Also, machine learning and AI may work well in some situations, but it is hard to imagine them providing more than a minor assist in managing the complexity of human interaction in the workplace. There are just too many variables and nuances that change day-to-day in an active company. Maybe what was "surfaced" yesterday is no longer relevant today. Time will tell if AI can mature to the point of providing real value instead of overload and distraction.
Another big limitation is that Office Graph only indexes Office 365 data, and so Delve will only have that data to work with. Many work-related activities, connections, and documents are outside of Office 365 and therefore will not be included in the Delve platform. This obviously hinders Delve's usefulness as a full-spectrum social platform for the workplace.
We will "delve" more into Delve in another blog posting soon, especially in relation to SharePoint applications, being that is where Crow Canyon is a major player. Our customers will want to know if Delve can enhance the interactivity in our help desk, customer support, and request management applications.
Mix
Office Mix is a PowerPoint add-in available in both Office 365 and Office 2013+ that enables users to add rich media content and interactivity to their PowerPoint presentations. The primary feature set in Mix is its audio and video-recording capabilities along with presentation-oriented tools, such as drawing on the screen. Users can also add polls, quizzes, and interactive apps. As would be expected, the default save for Mix is the cloud (office.com) with Web-based accessibility and social media sharing.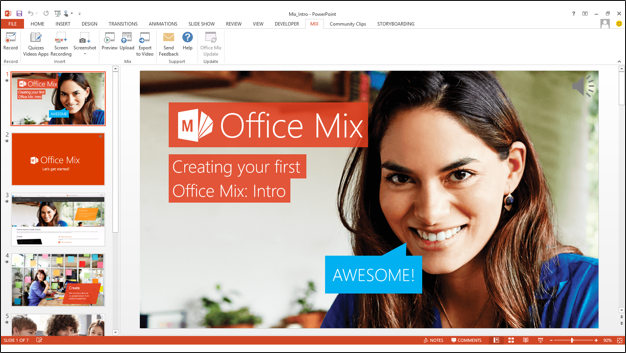 Mix is currently a bit of a niche add-in designed specifically for the education market, but it could gain traction at the enterprise level if it's marketed intelligently by Microsoft. Currently the feature sets revolve around the needs of educators, such as quizzes and interactive polls, both of which are designed to enable teachers to engage with students.
The core technology, if tweaked, could allow Microsoft to adapt Mix more fully for the private sector — for example, using PowerPoint to engage with colleagues in real-time (instead of producing a finalized video to be shared) and integrating Office 365 content (e.g., Sites, OneDrive) seamlessly into presentations. So, there could be a bright future for Mix if it's developed and marketed with an eye to markets outside of the education sector.
Sway
Sway is still in its early stages (just released in August 2015), so it will take some time to become clearer as it its value and usefulness. As it is now, Sway is a presentation app that enables users to add a variety of content from nearly any online source or from a device such as smartphone or tablet. Sway then uses its algorithms and design styles to format, arrange, and present the content based on user-supplied preferences (e.g., giving priority to certain photos). Suggested end products include reports, presentations, newsletters, and personal stories. In short, Sway is a blank canvas with intelligent design mechanisms working behind-the-scenes — you supply the content and Sway makes it beautiful.
Here is how Microsoft explains it (here's a video in case the official explanation doesn't help):
You want your ideas to be understood. Sway helps you do just that. It's a new way for you to create a beautiful, interactive, web-based expression of your ideas, from your phone or browser … Your mind is a continuous canvas, and Sway brings this canvas to life.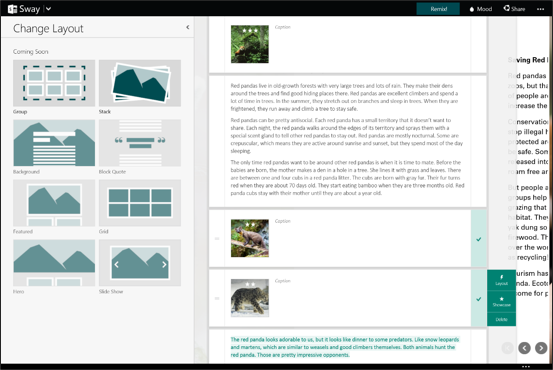 When it comes to Sway, there is a lot of potential — the design and presentation capabilities seem robust enough to transform ordinary data into rich content that is meaningful. At the moment, Sway hasn't matured enough yet to determine its viability for the mid or long-term. Sway could feasibly be used by engineers to present circuitry diagrams or could be used by Fine Arts professors to demonstrate new techniques; the possibilities are there but if they're not defined, Sway could go the way of Microsoft's "Bob" (remember that?).
It's not enough for Microsoft to just put out a product and wait for the masses to adopt it — especially with such an open-ended solution like Sway. Yes, users will rely on their own imaginations to create their own unique "Sways", but Microsoft needs to demonstrate the possibilities and nail down which market segments would benefit the most from Sway's feature set.
—
Crow Canyon Systems has 16 years of experience assisting organizations in leveraging their existing infrastructure, rather than requiring new hardware & technologies. We specialize in building upon your collaboration platforms, such as SharePoint and Office 365, in order to give your Help Desk and Support Staff the tools they need to provide assistance without the need for additional infrastructure.
Want to learn more about how our solutions can transform your SharePoint and Office 365 experience? Give us a call at 1-888-706-0070 or contact us by e-mail at sales@crowcanyon.com