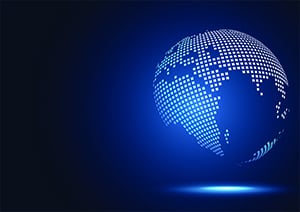 Digital transformation is rapidly transforming how organizations look at internal processes and workflows. The move to digitized business processes opens a new world of possibilities for companies that previously relied on outdated, manual processes. This is felt primarily in the company's bottom line when inefficient methods, paper-based processes, and repetitive tasks are replaced with efficient workflows, digitized accountability, and automated options. The cost of doing business decreases while the amount of time available increases, enabling enterprises to re-allocate resources to spur business growth.
When Legacy Solutions Are Not Up to Current Challenges
Most companies, however, fall into the trap of maintaining existing manual processes during and after growth cycles. A significant challenge facing growing enterprises is how to maintain efficiency as they scale upwards or experience rapid growth. Start-ups and small businesses, due to their relative size, have the luxury of providing personalized time-intensive service while keeping costs at a minimum. During these early stages workflows are often reliant on manual, case-by-case processes. This quickly becomes untenable, however, as the cost of remaining static becomes too high.
Organizations often feel the need to change, but are hesitant to do so for a variety of reasons, such as a reliance on existing processes, hesitancy to embrace new solutions, and a reluctance to abandon deeply-embedded legacy platforms such as InfoPath. As the cost of doing things "the old way" rise, however, organizations are faced with the stark reality of either adapting or failing. When presented with these two paths, companies worldwide are increasingly turning to digital transformation as the best way forward on their journey towards operational efficiency.
Digital Transformation Brings Efficiency
At a high level, digital transformation is the journey that an organization takes as they move from outdated processes to modern, efficient solutions. Digital transformation can positively affect a company across the board and usually includes multiple aspects of how a business can engage with their customers.
Key areas include:
User Interface/Experience: Are you mobile-friendly? Are your interfaces intuitive and engaging? How accessible is your solution to users who rely on multiple devices?
Automation and Streamlining: Are repetitive manual tasks acting as bottlenecks of productivity? Are common tasks automated? Are business processes streamlined without the need for excessive manual input?
Using Analysis to Improve: Continual improvement of internal processes via analysis is critical in order to understand how your organization can improve. This means taking steps to avoid repetitive manual tasks and examining workflows to ensure that they support efficient business processes.
Examples of digital transformation in the world of business processes include:
Enabling customers to log on to a Web-based self-service portal, create a support ticket, and then have the ticket automatically routed to an appropriate agent based on language, ticket type, and/or severity.
Automating the leave process by enabling employees to check a calendar on SharePoint, receiving suggested dates based on company-defined algorithms, and automating the request process by routing leave requests to managers for approval before notifying the employee of request results via Outlook.
Manage and track access requests to potentially sensitive data. Use an automated access request system to route access requests based on pre-defined criteria, such as the nature of the request, recipients, and status. Approvals or denials are included as part of the approval workflow, which can be configured to support multiple approval stages if needed.
Embracing Digital Transformation with SharePoint and Office 365
Our solution, NITRO Studio™, leverages the proven infrastructure of SharePoint and Office 365 to build innovative no-code business process solutions. From onboarding to IT help desks, our applications fully embrace digital transformation by replacing manual repetitive tasks with automated workflows, forms, and reporting technology.
Currently celebrating our 20thyear in business, Crow Canyon Software is dedicated to empowering organizations to become more efficient using technology that can be seamlessly integrated with existing SharePoint and Office 365 infrastructures at an affordable price.
For more information, get a trial, or book a demo, see https://nitro.studio. We hope your organization is inspired to move ahead with robust modern solutions — and is ready to embark on a digital transformation journey!
—
Crow Canyon Software delivers the power of a connected, digital workplace to your organization, helping you be more successful and competitive. We provide the tools that allow you to gain the maximum benefit from SharePoint and Office 365, Microsoft's premier collaboration platforms.
Want to learn about how our business productivity applications for SharePoint and Office 365 can power up your organization? Give us a call at 1-925-478-3110 or contact us by e-mail at sales@crowcanyon.com. We look forward to hearing from you!