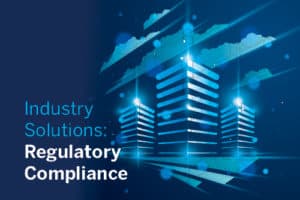 Organizations in the healthcare, financial services, and utility provider industries have one thing in common: the need for regulatory compliance. And all too often, companies in these sectors make the mistake of using systems their staff is familiar with, rather than the proper tools, to meet compliance needs.
Spreadsheets, Microsoft Word DOCs, PDFs, and e-mail are given the task of carrying the compliance burden. Familiar as they are, none of them offer the level of transparency and tracking capabilities needed to consistently pass regulatory audits.
Risk of Audits and Fines Using Inadequate Systems
Enterprises that rely on outdated and inadequate processes risk of getting on the wrong side of regulatory compliance – and all too often face steep fines and fees as a result of negligence and poor record-keeping. And regulations, whether originating from the public or private sector, continually change and inevitably become more restrictive in the name of safety and standardization.
As a result, companies across a wide range of regulated industries are at risk of either losing certifications or being hit with fines. Legacy systems put in unnecessary obstacles to full audit compliance. These obstacles arise from the decentralization of data when information is stored across multiple apps, with spreadsheets and e-mail accounts being the most common culprits. In particular, certain industries—such as financial services, healthcare, and logistics—rely heavily on interactions with multiple stakeholders, partners, and customers. Keeping track of the vast quantities of data associated with these sectors can pose significant challenges to achieving transparency.
Data Transparency: Critical For Regulated Industries
Data Transparency in IT occurs when there are no unnecessary barriers to accessibility. Achieving this state requires the adoption of digital transformation as a means to replace compromised methodologies with modern, digitized processes.
Old school approaches are common, particularly with companies who have not kept up with change as they scaled upwards and with established companies that are hesitant to adapt new approaches.
Examples of non-transparent technology include:
Use of legacy solutions, such as InfoPath, Lotus Notes, or other outdated solutions.
Use of standalone communication tools, such as e-mail, spreadsheets, PowerPoint, Word DOCs, and PDFs, that are not part of a larger framework such as Office 365.
Use of physical paper.
Use of digitized paper (i.e., printing out information on paper and then scanning it).
Use of disparate communication tools (i.e., using e-mail to communicate with one customer and a chat messaging app to communicate with another customer).
Embracing Digital Transformation to Achieve Data Transparency
Conversely, a fully transparent company is one that has embraced digital transformation. Key characteristics include:
Automatically tracks all user and customer interactions and makes that information easily accessible (e.g., searching, filtering, sorting, reporting) to facilitate regulatory compliance.
Consolidates and centralizes business process tools as much as possible. Microsoft SharePoint and Office 365 already offer this capability due to the tight integration between multiple applications.
Use of backend infrastructure and solutions that are highly flexible, accessible, scalable, and future-proof. This means applications that are device-agnostic and cloud-based, with technology that doesn't have an expiration date.
Workflows and processes, both internal and external, that are highly configurable based on business needs, and that include automated functionality designed to eliminate manual, repetitive tasks.
Digital Transformation: Modern Methods Bring Efficiency
Being a transparent organization is about breaking down barriers between the user and information — in other words, making information accessible to those who need it while keeping it secure. When done internally, a company is able to easily meet its regulatory obligations because the flow of data is not hidden, incomplete, or scattered. When done externally, a company is able to rely on efficient workflows to facilitate deeper engagements with customers. Digital transformation enables organizations to realize true regulatory compliance while achieving transparency. The move away from outdated, inefficient methods to digitized business processes means that enterprises are able to fully account for all activities.
Digital transformation means that business processes can be tracked and analyzed, and regulatory audits can be prepared for with no surprises. This degree of transparency means that, to the best degree possible, everyone who needs to know is able to determine what's going on at all times, or at least can find out by looking the information up from the proper sources.
—
Crow Canyon Software delivers the power of a connected, digital workplace to your organization, helping you be more successful and competitive. We provide the tools that allow you to gain the maximum benefit from SharePoint and Office 365, Microsoft's premier collaboration platforms.
Want to learn about how our business productivity applications for SharePoint and Office 365 can power up your organization? Give us a call at 1-925-478-3110 or contact us by e-mail at sales@crowcanyon.com. We look forward to hearing from you!