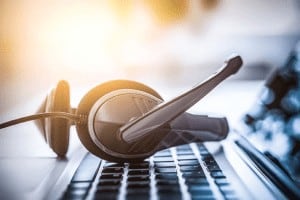 Let's face it, the only time that Support teams receive e-mails or calls is when something is wrong. After all, no one calls up an IT Help Desk just to say "Hello!" and give a jolly greeting. It's also a given that the person initiating the communication is probably not in the best of moods. This is all to be expected in the world of customer service and, whether it's internal or external, the expectations are the same across the board.
While there may be little one can do to calm an irate customer or user, there is one area within the realm of control: being professional. In short, being the best Support Technician you can be. How easy this is depends, of course, on you, the responder, but it also depends on the tools that you use. It's infinitely easier to perform under pressure when the answers being demanded are at your fingertips.
Let's look at how good Help Desk software can help support teams perform above and beyond their employer's expectations and, in parallel, how software can help teams to engage more effectively with their clients.
#1: Centralized and Automated System
IT Help Desk systems, when done correctly, should operate smoothly. The ideal scenario: all incoming communications, whether it's an e-mail, web entry, or telephone call, are quickly transformed into the Help Desk tickets and then assigned for speedy resolution. The Support team member is confident that the ticket was sent specifically to him or her for a reason. If a ticket is mistakenly assigned, it can be seamlessly re-routed.
Ticket forms need to encapsulate incident data into a standardized format that can be sent, received, tracked, and analyzed. The backend of the system should run as automatically as possible, according to configurable workflows. New tickets should "know" where to go based on user-supplied data; tickets that are not responded to within a specified time period need to be escalated; notifications and alerts must go out to the relevant parties without delays.
An ideal Help Desk operates within an environment that is familiar and easy-to-use, such as Microsoft SharePoint and Office 365. Integrations with other systems or databases should be frictionless, with functionality across applications easily accessible from the Help Desk system.
#2: Knowing the History
Successfully engaging with internal users or external customers can be facilitated by providing your Support team with the historical information that they need. This doesn't mean tucking away critical data on a database accessible via external apps with multiple credentials; it means providing content – or easily accessible links – directly within the ticket itself. All communications with the user need to be recorded on and available within the ticket.
From a customer's point-of-view, the level of frustration involved when repeating the same story over and over again can be hard to put into words. A well-oiled IT Help Desk system recognizes repeat issues and automatically provides relevant historical data at the technician's fingertips. Support teams can quickly review this important content and provide a more personalized experience. Understanding each incident's history is critical when personally engaging with customers who are, more than likely, very annoyed.
#3: Getting the Answers
The ultimate goal of incident resolution is being able to solve problems quickly. This means being able to view highly relevant answers without delay. Advanced IT Help Desk systems are capable of anticipating this need and providing teams with meaningful content, such as:
Asset and Equipment Information: Troubleshooting a printer error? Addressing a concern over network accessibility? If so, then your Support teams will need access to both summary and detailed real-time asset information. The type of information provided should include specific data (e.g., serial number), real-time usage data (e.g., where is the asset right now? who is using it?), historical data (e.g., last service? historical issues?), and linked data (e.g., warranties, contracts, procurement, financial).
An Asset Management system like this should be fully integrated with a Help Desk system so that time-sensitive equipment information can be pulled during incident resolution.
Access to Knowledge Bases: At times, Support personnel need to view related content that can help them to solve the incident. Knowledge Bases provide teams with access to specific information that is invaluable for incident resolution. For example, a KB article could provide specific directions about how to solve configuration change requests or how to set up new users/clients; a client-specific KB articles could detail solutions unique to a client or user system configuration.
Links to Policies & Procedures: More formal policy and procedure documents should also be accessible from within tickets, particularly for compliant-sensitive industries such as the electrical and financial compliance sectors. For example, a ticket request for potentially sensitive data may need to undergo strict regulatory evaluation prior to the release of information. Access to the relevant procedures for handling such requests could mean the difference between a state of compliance or potentially damaging the company's credibility.
#4: Being Available
In the world of Support, there are times when you need to be available outside of the office. For critical situations, your immediate response to an escalated ticket is required without delay. To make this a reality, you need mobile access to an IT Help Desk system.
Basic mobile access (e.g., viewing tickets) is not comprehensive enough — what's required is full interaction with the system: access tickets, make changes, respond to users, and close tickets. The feature set should be straightforward, but robust enough to handle important incidents in real-time.
A mobile-friendly Help Desk system should also support notifications and alerts that are 100% configurable in terms of alert triggers (e.g., outstanding tickets, tickets from specific users or clients).
#5: Continual Service Improvement
Maintaining the status quo in terms of incident management is not a viable approach to remaining competitive. There is always room for improvement, particularly when it comes to Support team training, user engagement, and Problem Management. An advanced IT Help Desk system must include Reporting & Analytics capabilities that measure the performance of ticket handling across multiple metrics.
Possible reporting metrics include visual displays of ticket statuses, assignments, quantities, priorities, overdues, and time spent on tickets based on selected dimensions. The reports themselves would, ideally, integrate with the platform being used and be accessible to multiple parties – managers as well as staff.
A robust reporting & analytics feature set allows your organization to:
Refine employee training by discovering areas in need of improvement (e.g., ticket resolution time comparisons);
Discover areas within your infrastructure that require attention (e.g., ticket category analysis);
Find service management bottlenecks that are hampering Support efficiency (e.g., ticket status comparisons, time spent in a pending status based on category, employee accessibility, initial response times, etc.).
Conclusion
"Good ticketing" isn't about just finding quick solutions and workarounds; it's about user and customer engagement: being able to relate to your users and providing them with the solutions they need in a professional, timely manner. A Help Desk system is a major component of IT Support. With the right tools and features, Support teams can achieve success by empowering your organization to become more efficient while improving service quality.
______________________
Crow Canyon Systems has 20 years of experience assisting organizations in leveraging their existing infrastructure, rather than requiring new hardware & technologies. We specialize in building upon your collaboration platforms, such as SharePoint and Office 365, in order to give your Help Desk and Support Staff the tools they need to provide assistance without the need for additional infrastructure.
Want to learn more about how our solutions can help your company engage with your customers and/or users? Give us a call at 1-888-706-0070 or contact us by e-mail at sales@crowcanyon.com