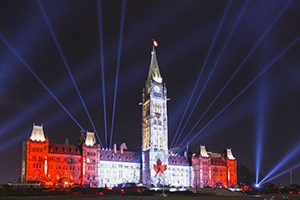 Government and agencies in the public sector face challenges keeping up with the needs and requests of the people they are chartered to serve. These agencies are often dealing with heavy workloads, limited staff, and a lack of modern, effective IT solutions.
But the growing use of SharePoint and Office 365 in the government realm is easing these workloads. By streamlining processes and automating workflows, Office 365 can provide relief to the beleaguered workers tasked with handling numerous requests.
In this blog article, we'll look at the challenges faced by one of our public sector clients, a Canadian government agency responsible for handling Freedom of Information (FOI) requests. We'll see how Crow Canyon's customized request tracking software for Office 365 was able to streamline this agency's processes and, in turn, provide improved customer service to FOI requestors.
Request Management Challenges
Handling a multitude of incoming requests, and having to respond to them within a regulated timeframe, presented a unique challenge to this government agency. Some key obstacles they faced when managing incoming FOI requests included:
Scalability: The sheer number of incoming FOI requests demanded a new approach. The high volume strained existing processes to the breaking point — clearly, the underlying workflow needed modernization;
Tracking: Management and administrators needed to be able to quickly determine the status of FOI requests. Being able to answer the question, "What's going on?" seems simple enough, but without a way to easily track request status, it required substantial back-and-forth among employees to check on a request;
Regulatory Compliance: MTo remain compliant with government regulations, our client needed to address all FOI requests within a specified time period. Their ability to do that with existing tools, and with the increasing number of requests, was quickly becoming a growing concern;
Routing: All incoming requests needed to be routed along their unique workflow path from receipt to finalization. The stages in-between typically involve movement between status changes and destinations. For example, FOI requests may need to transition from department to department, obtaining approvals along the way, before final delivery;
Historical Analysis: Our client needed the ability to connect their existing analysis tools, primarily Crystal Reports, with our SharePoint-integrated solution.
Simplifying Request Management with Crow Canyon Software
After listening to our client's requirements, we recommended a version of our Employee Service Request Manager.
Our service request platform is a robust solution that enhances SharePoint, whether on-premises or in Office 365. A key feature is its high level of configurability; customizing the application to address our client's specific requirements was not a major undertaking. All of our applications work the same way – they can be easily configured based on business need.
The first task was to address the scalability and tracking issues: the solution needed to be able to handle hundreds of incoming monthly requests, be able to expand as needed, and also provide management with the FOI request visibility they demanded.
Infrastructure and Scalability with the NITRO Studio™ platform
The service request manager, like all Crow Canyon applications, is built using our NITRO Studio™ backend technology layer. This layer boosts the power of SharePoint and transforms it into a genuine business application solution. NITRO is built using our 3 Pillars of Application Design strategy, which consists of UI/UX, Workflows & Business Processes, and Reporting & Analytics. This unique application design strategy drives user adoption, automates workflows, and optimizes service delivery with robust reporting.
The infrastructure itself is rock-solid and requires no coding. Being Web-based and integrated with SharePoint and Office 365 means that our NITRO platform is highly scalable. Built-in configurability enables organizations to change functionality, look & feel, and processes as they see fit.
This applies across all three pillars of design:
UI/UX:Creating forms, dashboards, portals, branding;
Workflows & Processes:Instituting routing, approvals, tracking, alerting;
Reporting & Analytics:Displaying report templates, graphs, charts, tables.
With no-code components and quick deployment, we were able to provide a customized version of the service request manager to our client within a short timeframe and with no compatibility issues.
Gaining Visibility into Request Statuses
A key requirement from our client was the need to gain immediate visibility into currently running workflows and processes. In short, our client needed to know "What's going on?" in terms of FOI requests, such as outstanding requests, current status, and critical status changes.
Crow Canyon's service request management platform provided our client with real-time dashboard data conveying the status of FOI requests. At-a-glance, management could see overdue requests, new requests, currently open requests (i.e., not yet finalized), and new issues. In just a few clicks our client could drill-down and view specific details about FOI requests, such as:
What content is requested;
Which department is currently handling the request;
Which employee holds ultimate responsibility;
Which employee(s) are working on the request right now; and,
Whether or not the request is on-track for approval and delivery.
Automation of Request Workflows with SharePoint
As the number of FOI requests increase, the opportunity for human error also increases. This is best addressed by introducing solid workflows that can be automated. For example: public content may be held in different forms (e.g., a physical record such as an audio tape or an electronic record) and may even be held by different agencies. An incoming FOI request for this content may need to be routed to different people, different departments, and even undergo different approvals based on how the information is allowed to be disseminated.
The FOI request, therefore, may need to bounce around a bit before it can be closed. Relying on manual methods, such as distributing e-mails with attachments to multiple recipients, is a recipe for disaster in terms of protocol, security, and lost/compromised data. Of course the main drawback is time: manual workflows slow down the entire process. This is magnified as the number of requests increase and becomes a legal issue when it compromises the ability of the government agency to remain compliant with FOI-related regulations.
Crow Canyon's request tracking platform handles these challenges via automation. All incoming requests, no matter how they are created, are transformed into a ticket. Our platform then automatically delivers this ticket to its intended recipient without the need for any manual processes. As FOI requests move through the system, every event—along with the time—is tracked and recorded for later analysis.
This workflow-based approach ensures that requests move speedily through the receiving → routing → approval process. Requests are not lost in the shuffle, information remains secure, all movement and actions can be tracked and traced, visibility is gained, and management can analyze the entire process in order to make improvements.
Reporting & Analysis Using Crystal Reports
Our client used Crystal Reports for their reporting needs, but also wanted to take advantage of the powerful reporting & analytics capabilities of Crow Canyon's service request management platform. This challenge was addressed by our team of developers who were able to seamlessly integrate all related systems—Request Tracking Platform + Crystal Reports + Microsoft SharePoint—with no problems.
With the Crow Canyon systems implemented, our client was able to leverage large quantities of workflow data into robust customized reports (in a familiar reporting interface) using report queries that they had built over time.
Request Management Success with Crow Canyon
Our client's greatest challenge was how to handle a large number of FOI requests without jeopardizing regulatory compliance status. The agency was able to do this effectively using our request tracking platform. The agency's entire process was streamlined, with each and every FOI request tracked, managed, and recorded with ease.
Chalk up a win for the workers managing these requests – and for the citizens who make them!
______________________
Crow Canyon Software delivers the power of a connected, digital workplace to your organization, helping you be more successful and competitive. We provide the tools that allow you to gain the maximum benefit from SharePoint and Office 365, Microsoft's premier collaboration platforms.
Want to learn about how our business productivity applications for SharePoint and Office 365 can power up your organization? Give us a call at 1-925-478-3110 or contact us by e-mail at sales@crowcanyon.com. We look forward to hearing from you!