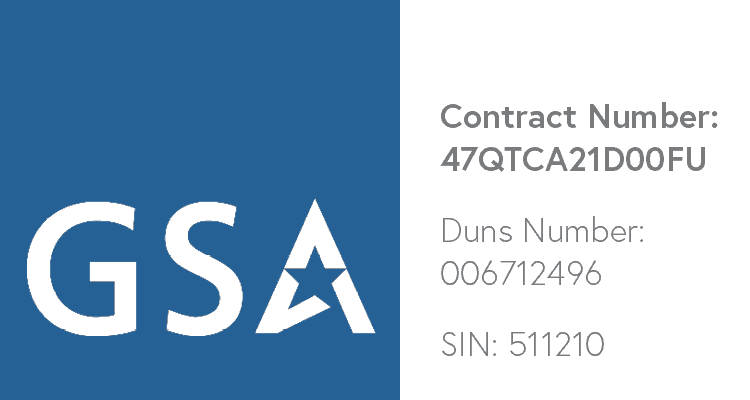 U.S. government agencies and their affiliates can affordably and securely accelerate digital transformation and eliminate paper-based and manual processes with Crow Canyon Software's NITRO Studio, the no-code workflow automation platform for Microsoft Office 365, SharePoint, and Teams.
Crow Canyon Software announces that it has been awarded a General Services Administration (GSA) IT Schedule 70 contract for its NITRO Studio, a no-code workflow automation platform for the Microsoft 365, Teams, and SharePoint platforms. The contract also includes Crow Canyon's business applications and chatbot solutions for these platforms.
U.S. federal, state, local agencies, and federal contractors can now easily procure Crow Canyon solutions to manage, automate, and optimize business processes — quickly, easily, affordably, and securely.
"We are excited to offer government agencies and their affiliates ways to improve and modernize their operations," said Scott Restivo, CEO of Crow Canyon Software. "Our solutions allow these agencies the most out of Microsoft's Office 365, Teams, and SharePoint."
With a powerful Forms Designer, Visual Workflows, reporting, portals, print manager, bots, full Teams integration, and more, NITRO Studio provides organizations the tools they need to move off legacy program like InfoPath, Lotus Notes, Access forms, and others to modern, user-friendly, mobile-ready solutions.
Crow Canyon's programs run in Office 365 commercial, GCC (government cloud), and GCC High environments, as well as SharePoint 2013, 2016, and 2019. These solutions are secure and fully supported by US personnel.
"With NITRO Studio, government agencies can quickly modernize operations by deploying digital workflows, eliminating paper processes, and replacing legacy systems such as InfoPath Forms, SharePoint Workflows, Access, & Lotus Notes."
The GSA's IT Schedule 70 is the federal government's largest procurement tool and the most used IT services acquisition program. The GSA schedules provide government agencies with the tools and expertise to shorten procurement cycles and obtain the best value for innovative technology products and services.
State, local, and federal government agencies are already confidently automating business processes and replacing legacy systems with Crow Canyon government solutions.
Learn more by contacting Crow Canyon for more information and a free demo.