We recently conducted a webinar showcasing our IT Help Desk application to new customers. We polled the audience on what their frustrations were with their current solutions. While we'd rather be sharing a homemade pie of the baked good variety, we thought it would be helpful to share this pie chart with you instead. Having been in this business for almost 20 years, we have often heard these same pain points. We've found that you can overcome these help desk challenges with a SharePoint-based IT Help Desk solution.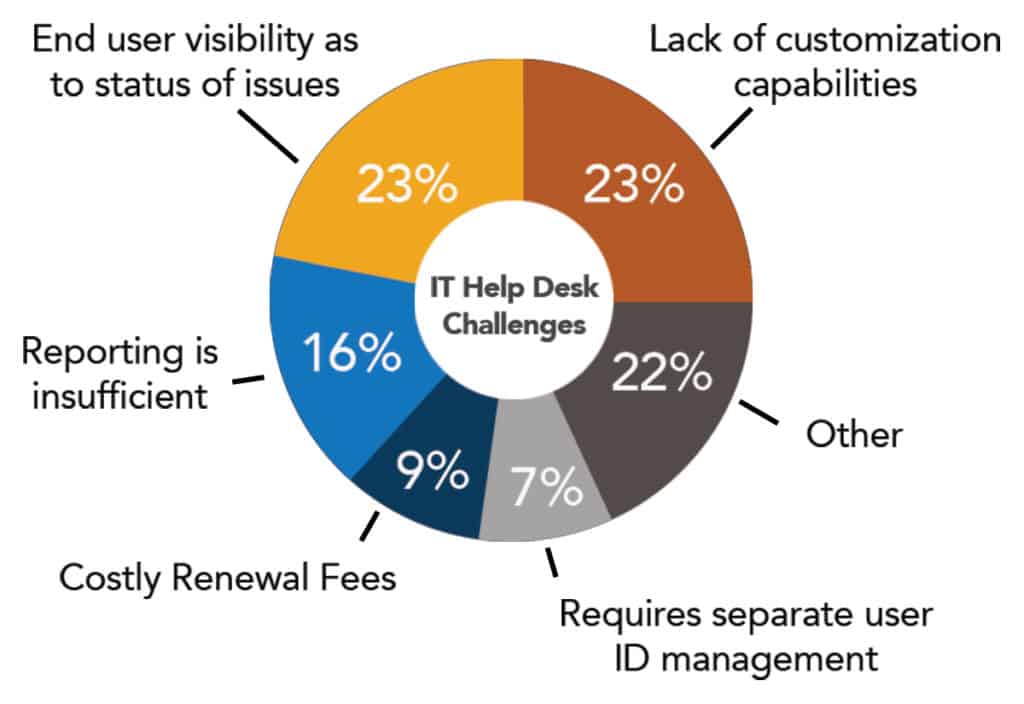 Help Desk Customization
Our Help Desk — in fact, all our applications — come with extensive capabilities for customization. There are the native SharePoint capabilities (List Settings, Views, Columns, etc.), but we also supply an enhanced platform of web parts and apps that greatly extend the power of SharePoint or Office 365. This platform of tools allows admins to customize the UI/UX, the workflows, alerts, notifications, categorization, approval processes, and much, much more.
Help Desk Reporting
All our applications come with a robust Report Center that allows admins, managers, and others to design and create reports that give critical statistics on the help desk activity. Dashboards can be easily put together using these reports to show just the information needed in powerful visual displays. Tiles and other graphics can be used to show the number of outstanding tickets or tasks. Reports can be emailed or saved as PDFs, and also scheduled for delivery.
Help Desk End User Visibility
End user access is completely configurable in our applications. The programs can be set to grant any level of visibility to the end users in a variety of formats. Do you want users to see all tickets? Just their own? Can they modify submitted tickets? Enter new information? All this and more is possible through the use of SharePoint, Office 365, specially created portals that we provide, email, or a web page. The options are there to give end users any amount of visibility you want.
Help Desk User ID Management
Our system uses Active Directory and the already existing SharePoint or Office 365 logins. There is no need for separate user ID management, as is sometimes the case with web-based, Saas (Software as a Service) solutions.
Help Desk Renewal Fees
Our renewal fees are both optional and reasonable. We include the first year of support in the original price, so there are no extra support costs to add on in the first year. We provide unlimited support for our applications to customers who have renewed. We offer multi-year discounts. Based on our market research, our renewal fees are a great value and give our customers a level of reassurance that we are there to support them and work with them on any issues related to our applications.
Other Help Desk Challenges
The "Other" category contained unspecified challenges, but we can speculate that these could include speed and responsiveness, training requirements due to over-complexity, an abundance of unused and unnecessary features, and more.
Overcome Your Help Desk Challenges!
We are confident that our SharePoint and Office 365 applications can meet all these challenges — after all, Crow Canyon has been in this business almost 20 years and none of this is new to us! We have been delivering help desk and other applications to organizations around the world and a big part of that has been listening to our customers and incorporating their feedback into our programs. If any of these challenges hit particularly close to home, you can always contact us to talk more specifically about your requirements.