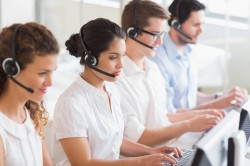 An IT Help Desk for SharePoint is a crucial tool in today's business world for managing service requests, improving IT communications and enhancing IT efficiency.
In any organization, there is a need to ensure end user satisfaction by monitoring and controlling a request from the submission stage right through to resolution and closure. Often, this process is designed as a ticketing system based on individual transactions.
A SharePoint IT Help Desk service customized for your business needs will provide an effective solution for following a ticket through the entire process.
Why You Need an IT Help Desk Add-in for SharePoint
https://www.youtube.com/embed/pgzm-s8Nnzs
Dedicated IT Help Desk software is a must because there is no "one size fits all" app. Without such Help Desk software to assist in managing transactions, the primary support mechanism that your organization could end up relying on is email via Outlook. The risk of some requests getting lost in the system is particularly high with email because it doesn't give you the capability of knowing:
who the original request was assigned to
who is currently working on the request
how far the request is from resolution
what interaction there has been with the end user during the process.
Because Outlook is designed primarily for email exchange, it is not reliable for providing a complete history of a transaction with timelines. A SharePoint IT Help Desk solves this problem by providing an extension to your Outlook. A ticketing system enables you to track each request or transaction, while collecting and sharing the information with your entire team. Creating tickets can also be done from the web or via a smartphone.
Benefits of a SharePoint Help Desk
Good IT Help Desk software will integrate seamlessly with Outlook and mobile apps through your SharePoint platform.
Key benefits include:-
Self service. End users can log and track their own requests. This saves support staff time so they can focus on addressing the actual request itself. First line information can be made available to end users so they can resolve their own problems.
Transparency. End users can track the progress of their tickets, keeping them engaged in the process and leading to greater customer satisfaction.
Efficiency. The Help Desk solution boosts efficiency for all: support staff, because they can spend more time on higher priority work, and also end users, because they can get resolution sooner.
Control. Management has access to reports that allow them to track key metrics including tickets opened, in progress and closed. They can also monitor the performance of support staff for assessment and training purposes.
Customer satisfaction. The features of SharePoint IT Help Desk collectively enable support staff at every level, as well as end users, to be fully involved in the request resolution process. All participants are able to focus more efficiently on their particular role in the process, leading to faster resolution and greater customer satisfaction.
Creative Commons Attribution: Permission is granted to repost this article in its entirety with credit to Crow Canyon Systems and a clickable link back to this page.