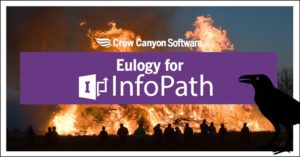 "Alas, poor InfoPath! I knew him, Horatio, an app of infinite jest, of most excellent fancy …"
Though Information Technology is a relatively new industry, it has nonetheless collected a graveyard of solutions that have succumbed to the march of technology. Microsoft has had its fair share of products that fell by the wayside: MS Silverlight, Bob, MS Paint, Windows Phone, and Internet Explorer, and now we are seeing the Infopath end of life. Although the reasons may differ, a common thread is that all of these apps were, ultimately, rendered irrelevant.
As we remember the rise and fall of Microsoft products, we can't ignore another solution that is quickly descending into the dustbin of history: InfoPath Forms.
InfoPath: A Strong Start
Providing relevant business services means collecting information. The most common way to do this is via forms, delivered via channels that customers are already familiar with — mobile, Web, and e-mail.
In the early 2000's, web and mobile environments were still in their relative infancy. This was also when Microsoft's InfoPath made its appearance. With the introduction of SharePoint 2007, InfoPath became the de facto forms solution.
The lack of real competition and the integration with SharePoint drove organizations to build forms based on InfoPath's WYSIWYG design approach. Mobile and cloud-based solutions were not dominant considerations, as they are now, and InfoPath, for better or worse, fit the bill.
Web and Mobile Form Solutions Eclipse InfoPath
Keeping pace with the fast growth rate of technology during the early to late 2000s was a challenge for any company, even Microsoft. As InfoPath became more interwoven with the SharePoint environment, technology's rapid advancement continued unabated. Mobile interfaces, responsive designs, device-agnostic solutions, improved browser technology, and efficient back-end infrastructures defined the rise of the tech culture during this time.
InfoPath, firmly entrenched in technology relevant in the 2000s, remained stuck while the rest of the tech world moved on.
InfoPath: Stuck Using XML Technology
Like many solutions that were doomed to fail, InfoPath rode on the coattails of a flash-in-the-pan technology: XML. InfoPath was released as part of Microsoft Office 2003 and, in the early 2000's, the hottest new language on the market was eXtensible Markup Language. While XML's goals were altruistic, the reality is that the XML markup language is bloated, verbose, and too complicated to use for simple applications.
InfoPath's reliance on this markup language was the first nail in the coffin. The second was mobility or, more accurately, the lack thereof. In addition to a lack of support for modern web browsers, InfoPath's support of mobile technology was severely lacking. The end result: a solution that cannot be effectively displayed on modern Web-based interfaces while also lacking responsive web design.
The core issues crippling InfoPath included:
Outdated: InfoPath simply could not keep up with the integrative demands of modern solutions.
Usability: InfoPath can barely meet the standards established by modern Web browsers, such as Edge and Chrome. By 2013, InfoPath's clunky UI & UX still looked like a 2004 platform.
Legacy: Users always want the latest and greatest, particularly as it relates to mobile device usage. InfoPath, however, was decidedly a relic of the past.
2013: InfoPath End of Life is Near as Microsoft Ends all New Development
In the early 2010s, Microsoft faced a decision: fix InfoPath or abandon it completely? In 2014, Microsoft announced that InfoPath 2013 would be the last version to be released bringing the end of life to InfoPath. Technology had passed it by and it was time to put it to out to pasture.
Although support will continue until 2023, the lack of dedicated development resources has forced enterprises to search for new solutions. InfoPath devotees now have to decide what to do with their existing InfoPath forms, sometimes numbering in the hundreds.
The challenge is how to replace InfoPath with a solution that still has all of the benefits of SharePoint, but is capable of handling wide-ranging business processes focused on scalable form management, from onboarding to customer service requests.
To learn more about how companies can move away from InfoPath and power their organization with a modern form and workflow system, check out our Guide to Moving Off InfoPath.
—
Crow Canyon Software delivers the power of a connected, digital workplace to your organization, helping you be more successful and competitive. We provide the tools that allow you to gain the maximum benefit from SharePoint and Office 365, Microsoft's premier collaboration platforms.
Want to learn about how our business productivity applications for SharePoint and Office 365 can power up your organization? Give us a call at 1-925-478-3110 or contact us by e-mail at sales@crowcanyon.com. We look forward to hearing from you!