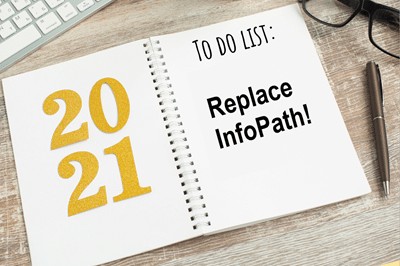 Make 2021 Your Year to Move off InfoPath!
Well, here we are in the year 2021, and it's time to find an InfoPath substitute. InfoPath mainstream support ends this coming July. Microsoft stated 3 years ago that "now" (that is, April 2018) is the time to start moving off InfoPath, which has been deprecated and has had no new development on it for 8 years. "Now" of 2018 has become "Right Now" in 2021!
Let's face it — InfoPath is sorely outdated and a substitute is needed. If you have not done so already, 2021 is surely the year to move off InfoPath and bring significant workflow improvements to your company.
We here at Crow Canyon have a large set of resources to help you with this. We have the experience on how to do this; we will support you through the migration; we have guidebooks, webinars, and well-developed processes. And most importantly, we have the tools to help you get it done.
Tools from Crow Canyon Software for InfoPath Replacement:
PowerShell scripts to extract InfoPath information from your SharePoint servers
The InfoPath Replacement Project Manager tool to help you manage the migration.
NITRO Studio for creating powerful modern forms and workflows that not only replace, but also improve, InfoPath forms and the business processes involved.
Ready-to-go Business Applications that can easily take the place of InfoPath forms.
The PowerShell scripts show you what InfoPath forms are there. The InfoPath Replacement Manager helps you manage time and resources for an efficient and timely migration. NITRO Studio gives your team the ability to create applications that incorporate all the latest technologies, including Bots and Microsoft Teams integration. Crow Canyon's business applications can be used to quickly replace an InfoPath process with a complete solution.
The question is not whether or not you need to find an InfoPath substitute. It is clear that needs to happen. The question is, when are you going to get started? The answer should be "right now". The reality is that even if InfoPath was not deprecated and support for it was not ending, you would still want to move off it so that your business can benefit from modern technologies. Why be stuck in the past?
Here is what a move from InfoPath to NITRO Studio can bring you:
Modern forms with attractive, dynamic interfaces
Responsive design for use on mobile phones and tablets
Efficient workflows that utilize the latest coding techniques
Compatibility with modern browsers, whether Edge, Chrome, or other
Better integration with databases and faster connections
We are here to help. Contact us at sales@crowcanyon.com or call 925 478-3110.
Web resources for an InfoPath Substitute: https://www.crowcanyon.com/infopath-replacement/