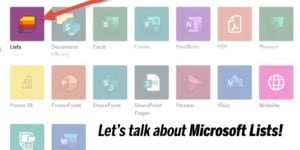 Microsoft Lists, a new app in the pantheon of Microsoft 365 apps, gives SharePoint lists a makeover, making them more enticing as a framework for building out business processes. Microsoft Lists is a super-charged version of the age-old SharePoint lists that Crow Canyon has been leveraging for years. Microsoft expects to have the new Lists app completely rolled out to all its M365 customers by the end of November 2020. But even if the Lists App hasn't appeared in your tenant yet, I'll show you a trick for accessing Lists ahead of time.
Microsoft Lists vs SharePoint Lists
Though SharePoint Lists and Microsoft Lists use the same underlying technology, the Lists App interface gives you more options for managing SharePoint Lists effectively within your organization. Through enhanced integration, new business process templates, consolidation, and better mobile access, Microsoft is really giving SharePoint lists the attention they deserve as the backbone to business processes. Read on for the key features being added to Lists.
Teams Integration
Building on their move to all things Teams, Microsoft now allows you to create a List from within a Teams channel with the Lists app. To get to the app, go to any channel in Teams and click on the "+" to add a new tab:

Select Lists from the range of options: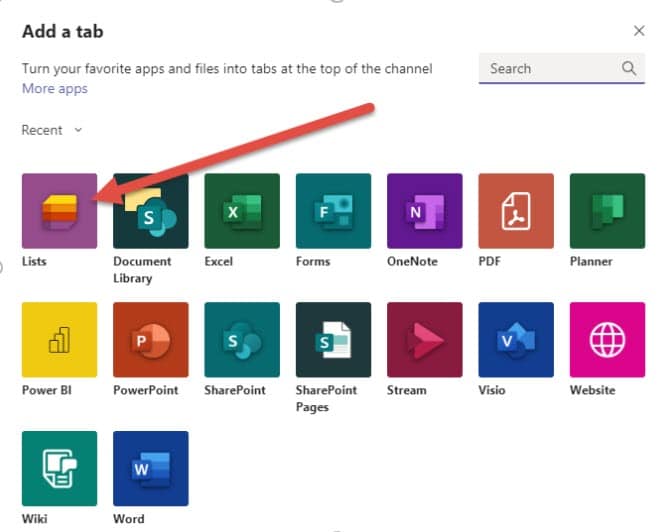 Once you've added the tab, you can connect it to a list from the Team's Team site, a list from another site, or create a new list using a template: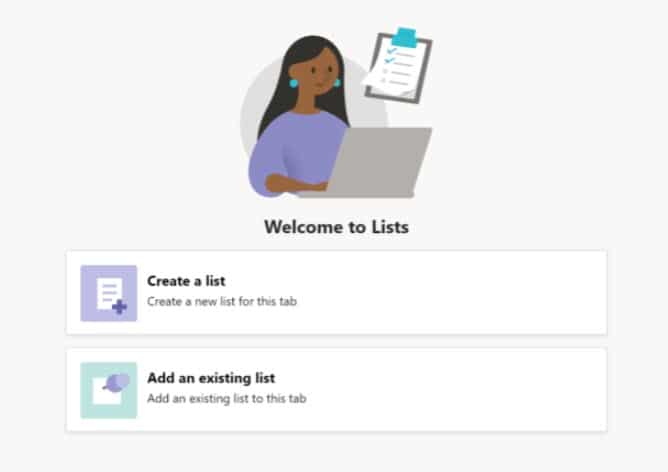 Once you've added the list to your tab in Teams, any Team member can add and update items directly from the Teams interface.


Though you can add any kind of list to your tab, Microsoft has come up with a set of templates for common Team functions.
Templates
Harkening back to the days of the "Fab 40" templates, Microsoft is providing several ready-to-launch list templates with pre-built columns and conditional formatting for common business processes. Some examples include Issue Tracker for simple tracking of issues, Employee Onboarding for managing the tasks to bring a new employee into your company, and Event Itinerary for tracking workshops and sessions for a conference. There are specific templates available only in Teams, too, including a Patient tracking app for Health Care and a Loan tracking app for Financial services. These are all admittedly lightweight apps, though you can augment any one of them using NITRO Workflows, NITRO Forms, or the Power Platform.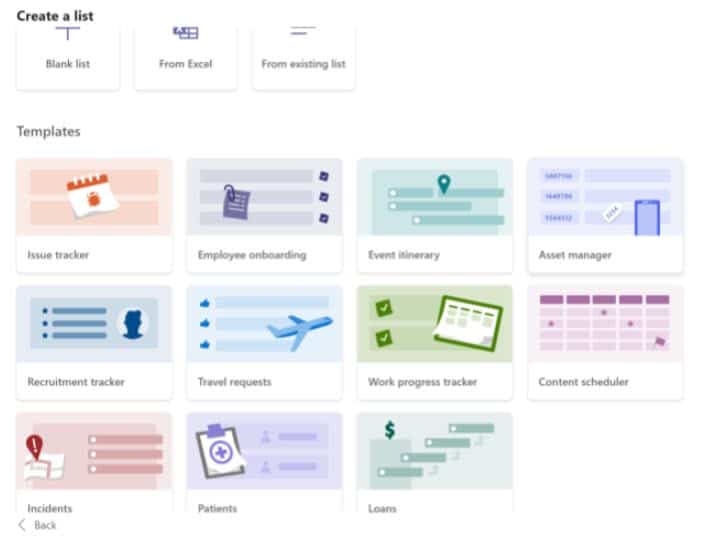 Create From an Existing List
You can create a new list from an existing list and to do so is vastly simpler in the Microsoft Lists app than in SharePoint lists. Previously if you wanted to share a list template across multiple sites, you would need to first create the list template, download the file locally, and then upload it to each site collection where you want to use it. With the Lists app you can simply navigate to the list you want to replicate from the List app creation interface and directly use it as a template for your new list. The best part is that you can grab the list from any site within your tenant.
Consolidation
When you're working on multiple lists across multiple sites, it can be a challenge to keep track of everything. You need to constantly navigate between sites to see everything you're working on. With Microsoft Lists, you can consolidate all of your important lists across all of your sites into one screen. You can even mark some as "favorite" lists so that they appear at the top of your screen and never disappear. See the screenshot from my Lists interface below.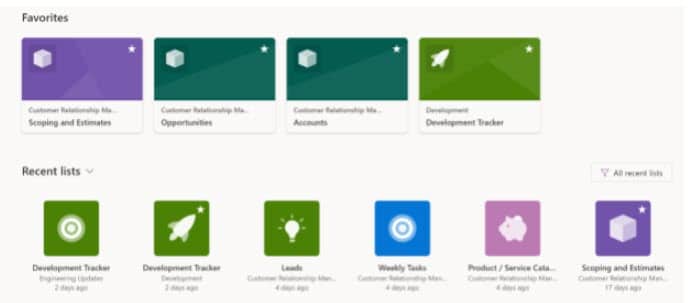 Note that my Development Tracker list is in a completely different Team site from the other three lists, but I can go right into any one of these lists with one click. I can also scroll through my list of recent lists and mark certain ones as favorites so that I never lose track of them.
Mobile Access
Microsoft is working on both iOS and Android first-class List apps (similar to Teams and SharePoint) where users can directly access their Lists from their mobile device. This is still on the roadmap, and Microsoft hasn't publicly shared any screenshots, but I imagine the mobile interface will look much the same as the app interface on the desktop browser. They are targeting roll out of the iOS app later this year (2020), with the Android app to come later in 2021.
NITRO Studio and Microsoft Lists
Crow Canyon has been working with Microsoft Lists since the rollout first started in July 2020. We have tested our NITRO Studio forms on the Lists interface, and everything works beautifully. You will still get all of the same NITRO functionality whether you go through the standard SharePoint interface or the new Lists interface.
Accessing Lists before it's rolled out to your tenant
One last tip before I sign off. I mentioned earlier how you can get to the Microsoft Lists app even though Lists doesn't appear in your tenant yet. All you need to do is open up OneDrive in your browser, and simply switch out the end of the URL.
Example:
OneDrive URL: https://****-my.sharepoint.com/personal/****/_layouts/15/onedrive.aspx
Lists URL: https://****-my.sharepoint.com/personal/****/_layouts/15/Lists.aspx
And voila! You can start using Lists in your tenant.
Conclusion
Microsoft Lists is an exciting new way to interact with SharePoint lists. It takes SharePoint lists from an under–the–hood feature of SharePoint to a first-class feature of M365. Of course, we here at Crow Canyon have always understood that SharePoint lists can be a powerful engine to any business process, and it's nice to see that Microsoft agrees.