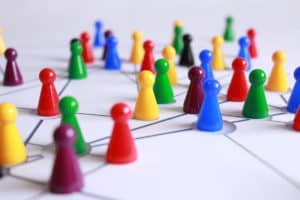 Note: this blog post answers questions raised during a Webinar we held Oct. 10th on Microsoft Teams with MVP Matthew J. Bailey.
Microsoft Teams is obviously a hot topic these days, with many organizations looking to implement it and see how it can help with running day-to-day operations and managing special projects. We had a lot of questions come up during the webinar, some of them quite in-depth. There are obviously a lot of skilled professionals working with Teams who are looking to get even more from the product.
Here are most of the questions with Matthew's responses. We hope this will help with your journey into the world of Microsoft Teams!
Q: In the channel conversations, why does Matthew have a picture icon of himself but not of Chris?
A: This is either due to caching or a person being removed from the organization. I have gone into detail on this topic in this blog: SOLVED: Microsoft Teams Profile Picture Not Showing
Q: Is it possible to select a due time in Planner?
A: At this time there is not, but others are thinking the same as you and have either created some complex Flows to create notifications at certain times or have voted for the feature on the UserVoice website to be added to the product.
Q: Every new team created results in a new SharePoint team site. How do corporations manage the potential 1,000 of sites that will become dormant?
A: I highly suggest you implement a Teams request process and governance policy to monitor how many teams are being made, why they were made, if they have specific content in them and if they have a specific legal lifespan. You will then have a list to go back to so you can clean up things on a periodical basis or implement retention policies in the Security & Compliance center. I have gone into detail about this in the Governance chapter of my book, Mastering Microsoft Teams available here.
NOTE: Crow Canyon Software has a Request Manager application that can be used to manage the creation of Teams, Groups, or other elements of Office 365. This program tracks the request and manages the approval process. It can run scripts to do the actual creation or assign a task to someone to do that, once the request is approved. It can also be used to implement retention policies.
Q: If an organization has External sharing turned on, I understand that each teams site that is created is also externally shared by default.
A: There are many sharing settings in the Admin Center that could affect external sharing but I believe you might be correct. At one client, we ran into this issue and needed to prevent users from sharing the SharePoint files externally. I solved this issue by creating a scheduled task that ran a PowerShell script using "set-sposite https://SITENAME.sharepoint.com/ -SharingCapability disabled" to solve this. Also, you might want to research guest access because that is a way to circumvent sharing with external users.
Q: Can you rename channels in a Microsoft Team?
A: Yes, you can via Manage Team à Channels, then click on the ellipsis (…) and select Edit this Channel. One note though, this will not rename the folder in the attached SharePoint site collection; that folder will retain the original name given to the channel. If you rename the folder in SharePoint, it creates another one eventually and become messy. So only rename a channel knowing you are changing the channel name for visual reference for your users while inside of Teams.
Q: When do you use comments (inside of Word as an example) vs conversations when co-authoring a document in Microsoft Teams?
A: A conversation around a document in Teams is displayed for everyone to see. The things people write are not stored in the document. Conversations are also probably considered a bit more generic and general but have higher visibility to others. Comments in Word are inserted in the document itself. This is good if you are going to have a lot of commenting or will be sending the document to others outside of Teams. My personal recommendation is, if the file is shorter and needs just some quick feedback, go with a conversation. If the file is a long with many pages, go with commenting.
Q: Can you make subfolders in the email box in Teams?
A: I am not sure if I am understanding the question completely, but I will do my best to respond. All emails received by a team are stored in a folder called Email Messages. This folder is automatically created by Teams and creating sub-folders won't help much as all emails stored in the team will still be placed into the Email Messages folder. If you are referring to the Exchange mail box that Teams uses to store conversation threads or the Exchange mail box of each user having a chat, I believe those boxes are locked down to alterations such as creating sub-folders.
Q: Does Teams allow API calls from other applications (i.e., CRM or cloud SaaS apps)?
A: Yes, there is a Teams API, which is actually a part of the Microsoft Graph. You could use your language of choice to connect to Microsoft Graph for Teams via REST calls from that other application. If you are looking to pull information into Teams from the other systems, then you can use the SharePoint Framework (SPFx) to make calls via REST to this other application. Also, you may want to check out the custom webhook connector in Teams, which you add as a connector to a channel and configure. I am assuming the application you want to use does not already have a pre-built connector in the store for you to just drop in. The link to the Microsoft Graph for Team is here.
Q: When updating, the team picture and user picture uploads are disabled. Is PowerShell the only option?
A: If I am understanding this question correctly, you are saying that the link in top right corner of the team where it says change picture is disabled in your team and your users cannot upload their own picture. Unless you have Exchange on-premises, I have never seen this before and actually thought it was an issue not currently fixable because some organizations insist on all user's pictures being uploaded from a specific area and propagating outward to all applications. If you meant that you cannot change the picture for the entire team, you need to be an owner. If for some reason the link is greyed out, try using the internet version instead of the client to do this.
Q: What is the best way to add/maintain users in Teams. Currently, we have to manually add/remove members. We want to ensure certain departments are always in groups to not allow them to leave. Syncing with AD groups is not an option.
A: In my opinion, creating a governance process to request new Teams or anything based on Office 365 Groups (modern groups) is highly recommended. You can then use PowerShell to add those people to the team when it is created by creating a script that runs on a scheduled task or via an Azure function. You can also create a script with PowerShell that verifies the person is in the team and if they are not, add them again. This script could run once daily as an example.
NOTE: As mentioned above, Crow Canyon Software has a Request Manager application that can be used to manage the creation of Teams, Groups, or other elements of Office 365. This program tracks the request and manages the approval process. It can run scripts to do the actual creation or assign a task to someone to do that, once the request is approved.
Q: We don't see Teams listed in our tenant when we go to Teams and Skype admin center.
A: Either you have a license plan that does not include Teams or this is possibly a bug. One possibility is that Teams has been disabled via PowerShell in your tenant. If Teams is not showing as an option of one of your applications, go directly to https://teams.microsoft.com and see if it opens Teams or gives you an error message that you can further investigate.