In early November 2016, Microsoft announced Microsoft Teams, a new "chat-based workspace" designed to facilitate communication between Office 365 users.
Slack, the current the forerunner in web-based collaborative chat technology, felt a need to respond. Shortly before Microsoft Teams was announced, Slack ran a full page advertisement in the New York Times giving some "friendly advice" to Microsoft. The marketing content, thoroughly condescending by any measure, was designed primarily to get attention and to set the stage for a Microsoft Teams vs. Slack showdown.
Slack has an early market lead and time-tested functionality, while Teams—being only one month old—is still finding its legs in terms of relevant functions for enterprise-level users. The product, available to the masses, features a freemium model with 4 million+ subscribers, 25% of whom are paying customers.
Teams, on the other hand, is not a product, per se, but rather a free add-on for Office 365 enterprise subscribers. Being an Office 365 feature, Teams is automatically integrated with the entire Office 365 universe: Word, Excel, PowerPoint, SharePoint, OneNote, Delve, Power BI, Planner, and more.
However, due to the differences between the products and the audiences they appeal to, the alleged "showdown" seems destined to end before it really begins.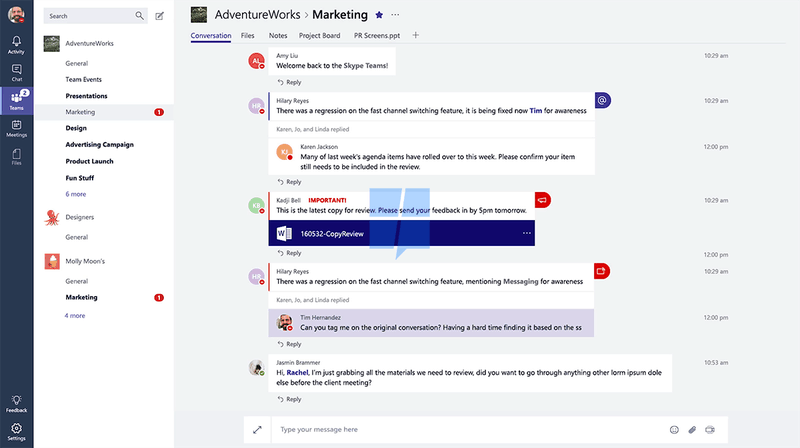 Differing Markets: Never the Twain Shall Meet
On the surface, both Teams and Slack are strikingly similar in aesthetics and the feature list has more similarities than differences. The reality, though, is that Microsoft Teams is designed for an audience that is 180° opposite from Slack's market.
Slack is a standalone product designed for a singular purpose, which it does extremely well. Microsoft Teams, however, is a singular feature within a robust platform chock-full of applications. Teams, like all new Microsoft features, is designed to seamlessly integrate with a host of other functionalities — all of which are powerful in their own right.
Teams has group/team channels, private messaging, graphic embedding (e.g., emojis, giphy images, meme pics, etc.), and threaded chats. It's a free add-on for Office 365 enterprise subscribers, but will be unavailable to non-business Office subscribers.
Microsoft Teams users can:
Access shared files on OneDrive
View recommended content from Microsoft Graph
Share team content across Office 365 productivity apps
Integrate with Skype for video and audio chats
It goes without saying that Slack users benefit from none of these advantages. As mentioned, the audience for both products are diametrically opposed. Slack is for the masses while Microsoft Teams is geared solely for enterprise users (i.e., large organizations). Teams is a free add-on that admins can simply turn on or off, as needed.
From a cost perspective, there is really no comparison. Microsoft's size enables them to offer a wide array of products at a relatively affordable price. Slack subscribers pay between $80 – $150 per user per year to access a singular product with one primary function: web-based collaborative chat. An Office 365 Business or Enterprise subscription, however, costs as little as $60 per year which includes Exchange e-mail, OneDrive storage, Skype for Business, and Teams. Upgrade to the E3 plan ($240/year) and you can access the entire range of productivity Office apps.
Two completely different markets and significantly different function-for-value comparisons equate to a showdown that never was. If you're working in a large enterprise, then Teams is what you'll most likely be using for chat within Office 365. It may not ring all your bells right now but Microsoft features tend to improve with age. If you're a small business owner with little need for a full productivity platform, then Slack may be a viable option.
Conclusion
In terms of SharePoint and Office 365 progress, the tail-end of 2016 will march into 2017 with the same exuberance that has marked its pace throughout the year. Microsoft Teams is just one example of this — the year has also brought tremendous development on the Graph, Delve, Flow/PowerApps, Framework, SharePoint Feature Packs, and user experience fronts. More innovation and development is expected for both SharePoint and Office 365 well into 2017 and beyond.
————————–
Crow Canyon Systems has 16 years of experience assisting organizations in leveraging their existing infrastructure, rather than requiring new hardware & technologies. We specialize in building upon your collaboration platforms, such as SharePoint and Office 365, in order to give your Help Desk and Support Staff the tools they need to provide assistance without the need for additional infrastructure.
Want to learn more about how our solutions can help your company engage with your customers and/or users? Give us a call at 1-925-478-3110 or contact us by e-mail at sales@crowcanyon.com