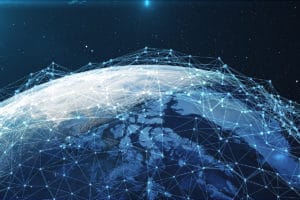 As more and more IT companies transition to a cloud or hybrid architecture, there is an increasing concern over data security and compliance. Constantly evolving international data protection laws mandate how organizations manage their customer's data. But, more often than not, the question is not what is stored… but where it is stored.
Regulations and privacy laws apply only to data stored within a country's jurisdiction. Managing where data is housed—Data Residency—in such a highly regulated environment is becoming more challenging over time. Many large-scale enterprises are subject to a wide array of data residency regulations.
For example, financial companies based in Singapore are required to maintain all customer financial data in Singapore. This is fine for companies that operate only in-country, but what about those firms that wish to expand to other countries?
This issue has proven to be a challenge for one of the world's largest international IT companies: Microsoft. Historically, the geographic location of their datacenters has been problematic for multi-national customers who need to meet different data residency requirements for the countries that they operate in.
Let's take a look at an announcement that came out of Microsoft's September Ignite conference: Multi-Geo Office 365.
Current Data Residency Issues with Office 365
When it comes to setting up an Office 365 tenant, you need to define the location where your tenant will be provisioned. For many companies this is straightforward: if you choose EMEA, your data will be stored in European datacenters and if you choose North America, all data is stored in North American datacenters. Other parts of the world are served by regions with one country acting as a data repository of sorts; for example, Australia and Malaysia fall into the Asia Pacific region, which has datacenters in Hong Kong and Singapore.
Unfortunately, many large corporations who rely on Microsoft have different data residency requirements. A European company may have users in Japan, but cannot easily store data in Asia due to data residency issues.
Up until recently, the only solutions were maintaining an on-premises infrastructure in the country of choice or provisioning multiple, separate Office 365 tenants in the multiple regions where the organization operates.
Like many workarounds, either one of these options creates another set of problems that need to be managed. Both options add cost, increase complexity, and require additional resources in terms of implementation, maintenance, and management. If a company opts for multiple tenants, it creates user experience problems such as cross-tenant collaboration issues, cross-tenant calendar sharing challenges, and being unable to use the same SMTP namespace.
Microsoft is well-aware of these problems and has spent the last 18 months working on a long-term solution. The Microsoft Ignite conference last September was highly anticipated in terms of SharePoint news, but for information architects working for international organizations, Multi-Geo was the prime topic.
The Multi-Geo Solution for Office 365 Data Residency
During the Ignite conference, Microsoft announced its plans to enable Office 365 customers to place their data in specific geographic regions. Branded as "Multi-Geo", the technology will initially be supported for Exchange Online, OneDrive, and SharePoint Online.
Multi-Geo offers companies the opportunity to ensure that data resides in a specific Office 365 datacenter region, even if the tenant's home region is different. This is done solely for data residency purposes. If your tenant is homed in Australia, but you have some users based in the UK, you could configure your tenant to be Multi-Geo. Microsoft would then move the data belonging to specified accounts -— done in Azure Active Directory -— to the secondary region.
This enables organizations to use a single tenant solution and, subsequently, simplify their architecture model (i.e., easier collaboration and administration). Key benefits include the use of a single SMTP namespace and a single Global Address List (GAL).
At the moment, the following datacenter regions are offered in Multi-Geo: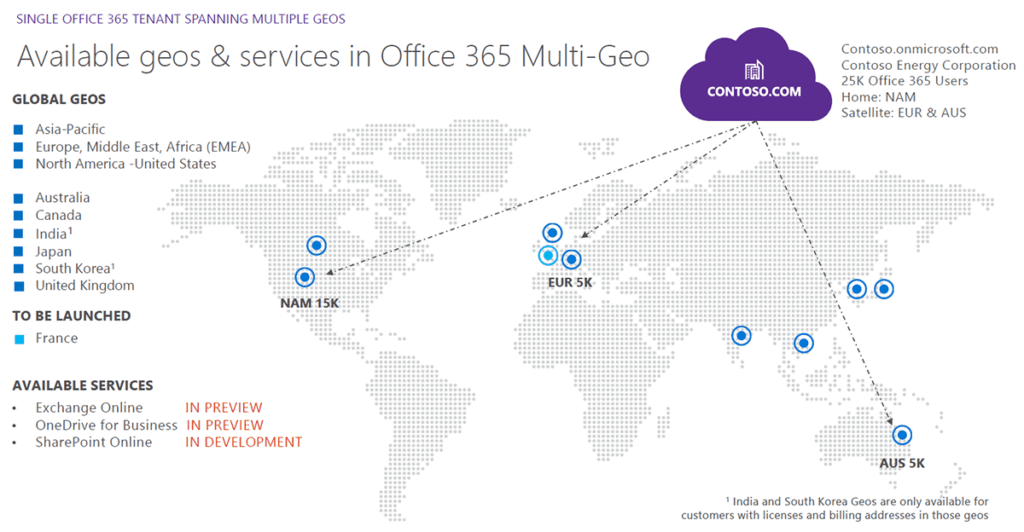 Using Multi-Geo
Organizations who will use Multi-Geo will typically be large enterprises with 10,000+ users. Pricing is currently an unknown, as the true costs of operating such a system are still being determined. The first services to avail of Multi-Geo are Exchange Online, OneDrive, and SharePoint Online — moving user data around in these platforms is not a breeze, but it's workable.
For some platforms, such as Microsoft Teams and its chat features, the transition will not be as easy. In short, apps that support live collaboration between multiple people in different global locations will pose a number of challenges in terms of where the data is stored.
What is clear is that Multi-Geo is an option to address data residency concerns… and that's it. Microsoft is making it abundantly clear that Multi-Geo is not a means to address network and connectivity issues. The underlying network architecture that forms Microsoft's datacenter network is quite robust, to put it mildly, and moving data around will have no real effect on performance issues.
——-
Crow Canyon Software delivers the power of a connected, digital workplace to your organization, helping you be more successful and competitive. We provide the tools that allow you to gain the maximum benefit from SharePoint and Office 365, Microsoft's premier collaboration platforms.
Want to learn about how our business productivity applications for SharePoint and Office 365 can power up your organization? Give us a call at 1-925-478-3110 or contact us by e-mail at sales@crowcanyon.com. We look forward to hearing from you!