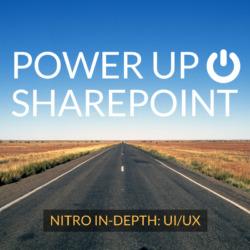 Crow Canyon's NITRO™ is a back-end technological layer that forms the foundation of our SharePoint and Office 365-integrated solutions. With our NITRO-powered applications, you no longer have to settle for run-of-the-mill, standardized SharePoint or Office 365 environments that do not meet your business needs.
Instead, you can turn SharePoint and Office 365 into "Digital Workspaces" where users can engage and interact with each other to further the goals of the organization, whether aiming for more efficiency, higher profits, or better service to customers, clients, and members.
We use our NITRO™ layer to extend the functionality of SharePoint and Office 365 without requiring any coding on your part. Whether you need to manage assets, facilities, service requests, security access, or have onboarding requirements, our software is designed to intelligently address your business needs while engaging with your users in a comfortable and familiar environment.
The NITRO™ Framework: Three Pillars
Our ITSM and ITIL-inspired approach to software development has played a significant role in the formulation of our NITRO™ technology layer. We have incorporated core service management concepts, such as incident, problem, and change management, into our NITRO™ framework.
This approach is built on three pillars found within all of our solutions:
UI/UX: Enhancing SharePoint via configurable forms, portals, dashboards, branding, and responsive mobile interfaces;
Workflows & Processes: Giving you the freedom to configure workflow processes that reflect your business requirements, such as routing, approvals, tracking, alerting, etc.;
Reporting & Analytics: Visually engaging reporting tools that provide summary & detailed insight about how you can continually improve your services.
SharePoint User Interface: A Focus on Configurability
Let's go into more depth about User Experience/Interface and how our applications empower organizations to craft highly-relevant business solutions. For example, our service management-oriented products all include a data-gathering phase of some sort. If you're running the IT Help Desk, then incident details would be specified by your users; if you're running our Human Resources product, then users would provide service request data (e.g., time-off request, onboarding, payroll issues, etc.). Essentially, there is always an initial phase in a workflow in which user-provided data is defined.
Most off-the-shelf products do not support comprehensive field configuration; at most, they may provide a handful of custom fields. Our products, however, put the power to configure the data-gathering process into your hands. This enables you to craft a User Experience that reflects your company's unique data collection requirements.
In our solutions, fields can be customized, arranged, and populated as needed. New fields can added; the fields can be in tabs or groups. The forms are dynamic, responding to user input. They integrate with Active Directory and can be extended to work with databases, such as membership or account records, order tracking systems, CRMs, ERPs, HR programs, and financial systems. They include permissions (who can see what fields or tabs), required fields, input validation, default inputs, and more.
Our reporting tools give staff and managers quick access to real-time data. Charts, graphs, and tables can be included on dashboard pages. Visual elements such as these provide both important high-level views and drill-down capabilities in an intuitive and attractive design.
The high degree of configurability offered in all of our products means that you can brand your experience according to your own marketing, UI, and UX standards. The look and feel is fully customizable and the application itself is device-agnostic, meaning that your Crow Canyon product experience works responsively across all mobile devices.
SharePoint User Experience: Anticipating Needs
A "good" product experience is one in which a user enjoys using an application — functionality, whether its simple or complex, is both intuitive and easy-to-use. This approach to UX is facilitated by anticipating user needs: knowing what people require without having to ask.
The Home screen from our IT Help Desk product, seen below, provides a good example of this straightforward UX technique.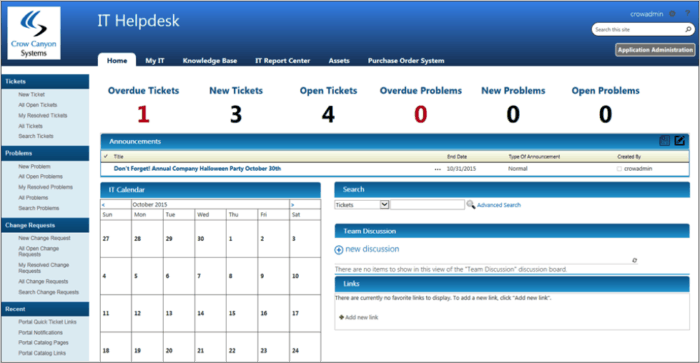 This particular interface is a dashboard screen designed to convey high-level ticket information. Its primary purpose is to provide critical status data for tickets, particularly for overdue issues. Current status information is conveyed horizontally across the screen in a large, easy-to-read font. Like other pages, the content and layout is entirely configurable — this sample displays a calendar, announcements section, search functionality, discussion area, and relevant links.
Emphasizing Engagement
Why discuss User Experience and User Interface even before functionality? Quite simply, if your users cannot engage with a product, then they will not use it. Whether your company is a startup or a large enterprise, user adoption is a significant issue in the IT space. Successful products are ones that combine intuitive navigation and easy-to-use functionality while reflecting your own unique branding.
We feel that the most efficient way to promote user engagement is to provide UI/UX-aware products that can be fully configured, as needed. Ultimately, the NITRO™ framework is focused on providing you with business applications that significantly enhance your SharePoint or Office 365 experience.
Learn More Live!
Crow Canyon recently announced a three-part webinar series with each session focused on one of the three pillars: UI/UX (October 6), Workflows (October 18) and Reporting (November 3). A single registration gives you access to the entire series. Register now.
—
Want to learn more about how our solutions can help your company engage with your customers and/or users? Give us a call at 1-925-478-3110 or contact us by e-mail at sales@crowcanyon.com