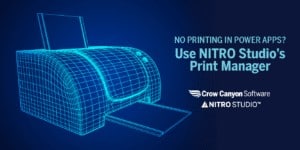 Printing with Power Apps is still not available and requires elaborate workarounds that actually don't quite work that well. There are videos and blogs on the web that describe various ways to configure HTML, Flow, OneDrive, Print to PDF, and more just to get a printout going using Power Apps. See this blog as an example: https://www.linkedin.com/pulse/print-form-powerapps-kind-oliver-wirkus
But why bother with all that when NITRO Studio has an efficient, effective, and easy-to-use Print Manager built-in? NITRO's Print Manager makes it a no-brainer to produce crisp, precise printouts in a variety of formats
The Print Manager allows you to print out lists and forms in the style you want. It can print a simple layout or more elaborate forms that meet specific business purposes. Invoices, Purchase Orders, Certificates, Work Orders, Government Forms, Contracts, and more can be printed with ease.
Once you design the print out, which can be a Microsoft Word or Excel template as well as your own custom format, it is as easy as pressing the included Print button to generate the document. With Power Apps, you have to work to add a Print button to a form, but not with NITRO Studio forms. The Print button and print functionality are native to NITRO Studio.
We also include a "Generate Document" action in NITRO Studio that will create a file (whether PDF, Word, or Excel) that can then be saved, emailed, or used later in the workflow. For example, in a Purchasing application, the Generate Document action can produce a Purchase Order as a PDF and then attach it to the Purchase Request, email it to a Buyer, and/or send to OneDrive or other file location. The same process could be used to create invoices, contracts, and other documents that are part of a workflow.
A robust printing capability needs to be part of any forms & workflow solution used to build applications in SharePoint and Office 365. Printing is a vital part of many business processes and needs to be simple and easy to use. The Print Manager in NITRO Studio does the job!
Check this link (https://www.crowcanyon.com/nitro-studio/nitro-components/print-manager/) for details on our NITRO Studio Print Manager. Or better yet, contact us at sales@crowcanyon.com for a free trial of NITRO Studio!