As a concept, Office 365 Groups initially existed as a way to group together people with a shared commonality (e.g., working together on the same project). This grouping mechanism was largely relegated to basic applications, such as security, permissions, and distribution. Microsoft had a plan for Groups, however, and now that plan is starting to come together.
My, How Groups Have Changed!
Before 2016's Future of SharePoint and this year's Virtual Summit, Office 365 Groups were more of a placeholder than a genuine tool with useful functionality. Significant progress has been made over the last year with Office 365, and 2017 will be no exception. Microsoft has empowered the role of groups in terms of its overall product unification initiative — the goal is to integrate collaboration tools so that team members can effectively work together from a single environment.
What Can we Expect this Year?
Connecting Team Sites and Groups
SharePoint Team Sites will be connected to Office 365 Groups: every group will automatically get their own team site and, conversely, SharePoint-created team sites will get their own connected group. Effectively, the barricades between team sites and groups have been removed.
Team sites can now become dashboards that show group content, such as the group's calendar, task management Planner, shared inbox conversations, Teams communications, and Yammer feed conversations. The team site's homepage will be fully configurable in order to streamline navigation and enable members to easily access collaboration tools.
Multiple collaboration tools will empower team leaders to drive visibility into planned events and communications. For example, the Calendar web part displays a group's calendar directly on the relevant SharePoint team site. Upcoming meetings can be configured and edited in Outlook and then displayed alongside other key content, such as team news and documents.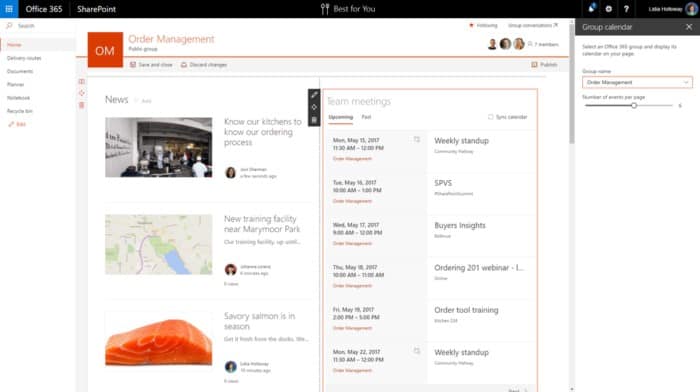 Personalizing Team Sites
Speaking of Team Sites, this summer site owners will be able to customize their team sites using a variety of selectable themes & designs. New site themes enable site owners to select from multiple color and font patterns. In addition, during the site creation process, you can select templates to apply to your team site or even select custom templates.
By the way, when creating a site, you'll be given a choice between a new Team Collaboration site or a Communication site — you can learn more about SharePoint Communication Sites in this article.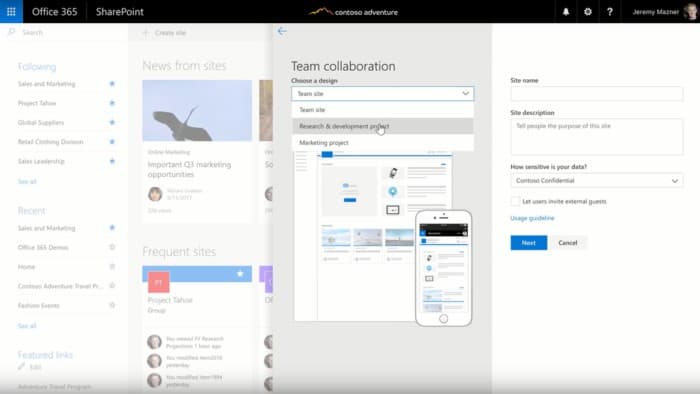 Connecting Existing Team Sites with Office 365 Groups
Later this year Microsoft will enable admins to connect an existing SharePoint team site to an Office 365 group. This will bring everyone on the same page in terms of full group & team site integration. The connection process does not compromise team site settings — the new site will retain the existing URL, settings, and permissions, but will be "upgraded" when it comes to accessing valuable Office 365 groups content.
What is the Expected Timetable?
Integration changes to Office 365 Groups and Team Sites will take place in phases throughout the year:
Team Site and Groups Integration: Initially phased in to Office 365 First Release customers and then rolled-out to full, worldwide production
Personalizing Team Sites: Coming this summer
Connecting Existing Team Sites to Groups: Expected later this year
Conclusion
The SharePoint and Office 365 trend is moving more and more towards integration and unifying collaboration tools. The idea is to have all communication options at your fingertips without having to access multiple products, remember storage locations, configure multiple calendars, and so on. This centralization of business productivity platforms cuts down on wasted time and provides more opportunities for team members to effectively work together, share information, and communicate.
__________
Crow Canyon Software delivers the power of a connected, digital workplace to your organization, helping you be more successful and competitive. We provide the tools that allow you to gain the maximum benefit from SharePoint and Office 365, Microsoft's premier collaboration platforms.
Want to learn about how our business productivity applications for SharePoint and Office 365 can power up your organization? Give us a call at 1-925-478-3110 or contact us by e-mail at sales@crowcanyon.com. We look forward to hearing from you!