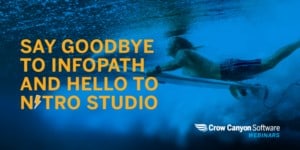 Interest in an Office 365 InfoPath replacement accelerates as the end of support for InfoPath Forms approaches. Here at Crow Canyon, we are working on a number of InfoPath replacement projects as well as fielding more and more questions from people looking to get started.
Customers come to us with Office 365 InfoPath Replacement projects of all sizes. Sometimes they have just one form, perhaps with an intricate workflow structure, to migrate. More often, the projects involve anywhere from a few dozen forms to well over a hundred.
We outlined a methodology for these projects in our Moving Off InfoPath eBook. This book provides a high-level, strategic approach. From there, we get into specifics for each customer and, indeed, for each form.
Each project has its own concerns that must be addressed for a successful move off InfoPath Forms:
How many InfoPath forms are there?
Are they being actively used? If so, by whom?
What business process do these forms automate?
What can be done better with newer technologies?
Does data need to be migrated or are we starting over?
These and other questions are crucial to the actual work of your Office 365 InfoPath replacement project.
Along with a strategy, tools are needed to facilitate the move off InfoPath. The most important is a robust, full-featured platform for creating forms and workflows that can replace the InfoPath forms. We provide that with our NITRO Studio application, which runs in Microsoft Office 365 and SharePoint on-premises.
NITRO Studio includes a Forms Designer and a Workflow Manager, along with a number of other tools that make it easy and affordable to build the forms and implement the workflows that are needed to move off InfoPath. The tools are quick to learn and simple to use.
Using NITRO Studio, customers can build, test, and deploy new solutions that replace InfoPath.
But prior to creating the new forms, it is good to know what InfoPath forms exist. For that, we provide tools that can "read" the SharePoint server and list out the InfoPath forms on it. That builds a catalog of InfoPath forms with metadata about each one.
This catalog can then be imported into our InfoPath Replacement Manager, a specialized version of our Project Manager application. With the list of InfoPath forms imported into this program, customers can review the catalog and determine what needs to be replicated and what can be abandoned. They can add many data points about each form, such as the timeframe and cost of reproducing it, who is responsible, what testing has been done, etc. Sub-tasks and approval process can be implemented.
In this way, customers can accurately track and manage the progress of each InfoPath form as it is migrated to NITRO Studio.
With the set of tools, along with advice and expertise, Crow Canyon empowers customers to make the move off InfoPath and to – finally – start using new and better technologies.
2020 is the year to move off InfoPath forms. InfoPath is old technology that is being phased out. Don't let it hold you back from the many new and interesting features in modern forms solutions like our NITRO Studio!
InfoPath Replacement resources: https://www.crowcanyon.com/infopath-replacement/
Webinar on Office 365 InfoPath Replacement: June 25. Sign up here.