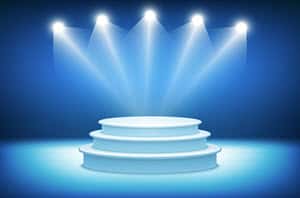 On May 4th, Microsoft hosted the Future of SharePoint event in San Francisco, which coincided with the general release of SharePoint 2016. The overall purpose was to highlight what users can expect in SharePoint's future and to get them enthused about the overall direction of SharePoint.
Office Graph Moves Front and Center
One key component took center stage during the presentation: Office Graph. In December, we wrote about Office Graph and discussed its role in relation to Office Delve. Five months have passed, and now it is clear that the underlying Office Graph technology has evolved and is coming into its own as a robust personalized content delivery engine.
Microsoft is positioning Office Graph as a SharePoint and Office 365 game-changer that will power Intranets, Team Sites, Home Pages, and much more. It is time to take a closer look.
Office Graph Coming Into Its Own
Office Delve and Office Graph are newcomers to the Microsoft family: the former being the user-facing presentation layer whilst the latter does the heavy lifting. By "heavy lifting," we mean using machine learning, artificial intelligence, and predictive analytics to serve-up relevant content to Office 365 and SharePoint users. Delve may or may not find a place in the Microsoft universe, but the behind-the-scenes powerhouse Office Graph is here to stay — as evidenced by the star treatment it received during Future of SharePoint.
Microsoft has given particular attention to SharePoint intranets and team sites, and Office Graph plays a significant role in powering both.
Powering SharePoint Intranets
When it comes to intranets, Microsoft has placed an emphasis on aesthetics and usability. Next generation SharePoint intranets will be highly responsive and mobile-centric. A new SharePoint home page will be powered by Office Graph and will present a Delve-inspired interface. Content will be tailored to your profile activities, and SharePoint sites will be displayed from both cloud and on-premises deployments (assuming that you're running a hybrid configuration).
Office Graph-powered content that SharePoint intranet users can expect to see on their mobile devices and Web interfaces includes:
Activity-based Content: This includes people, lists, libraries, and pages. Default content will likely be filtered by your engagement with specific Office 365/SharePoint features, such as files that you view frequently and sites that you've used. Graph's predictive analytics capabilities will display suggested sites that are highly relevant based on your profile history;
News: Based on your connections & interactions with colleagues, meaningful news about your team and your organization will be displayed & updated on your intranet home page;
New Features: Most frequently visited sites, suggested sites, and instant search of files, sites, and people — all content supplied by Office Graph.
Powering SharePoint Team Sites
For SharePoint Team Sites, Office Graph will be serving up customized content.. Users can expect to see a more advanced user interface that is very content-centric: rich metadata and content management functionality will enable teams to more easily support existing business processes. New page authoring and publication capabilities will empower teams to create rich mobile-ready pages for their colleagues or for the organization as a whole.
The key takeaway here is that Office Graph is serving up Team Site content that will be highly relevant to your team members. Authoring and publication functionality will also enable you to harness Graph-powered content to create engaging pages for sharing with co-workers.
SharePoint Framework Integration with Office Graph
The Microsoft SharePoint Framework will now be integrated with Office Graph. The SharePoint Framework is built on modern JavaScript and REST-based programming standards, enabling developers to create new experiences across the cloud and on-premises SharePoint. Access to Office Graph APIs will open up possibilities for developers in terms of creating highly customized and relevant apps.
The timetable for SharePoint Framework and Office Graph APIs is:
SharePoint Framework: Released to Office 365 customers this Summer;
Files API on Office Graph: Q3 2016;
Sites API on Office Graph: By the end of 2016.
Conclusion
When Office Graph made its initial appearance in early 2015, it seemed to play the role of the quiet partner to the user-friendly presentation layer Office Delve. Office Delve will surely play a large role in establishing an intuitive user interface, but the real attention has shifted to Office Graph. This is not a simple content delivery engine but, rather, a solution capable of using advanced machine learning techniques to build accurate Office 365 user profiles. By understanding who you are, and predicting what you may like to see, Graph hopes to re-define how Microsoft serves content across all of its cloud-based apps.
In coordination with the release of SharePoint 2016, Microsoft has decided to align Graph's development track with SharePoint — a decision that will surely have a major impact on SharePoint's place in the Microsoft family.
Last December, we mentioned a few potential drawbacks of Office Graph, notably the ongoing debate between privacy and convenience. Customized content is possible because your SharePoint and Office 365 activities are closely monitored, recorded, parsed, filtered, and ultimately delivered. Organizations with privacy concerns may be hesitant about the implications of Office Graph and, if they implement SharePoint, may be more likely to stick with non-hybrid on-premises deployments.
It seems clear, though, that the majority of organizations are willing to forsake employee privacy if it means that their SharePoint and Office 365 experience will be more meaningful and productive.
—
Want to learn more about how our solutions can transform your SharePoint experience? Give us a call at 1-888-706-0070 or contact us by e-mail at sales@crowcanyon.com. Crow Canyon Systems has 16 years of experience assisting organizations in leveraging their existing infrastructure, rather than requiring new hardware & technologies. We specialize in building upon your collaboration platforms, such as SharePoint and Office 365, in order to give your Help Desk and Support Staff the tools they need to provide assistance without the need for additional infrastructure.