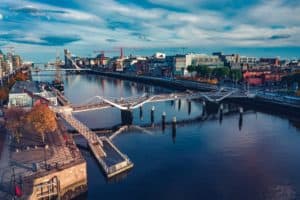 Crow Canyon Software is going to Europe, specifically Dublin, Ireland, for the annual "European SharePoint, Office 365, & Azure Conference". This event, running November 13 to 16, is the largest SharePoint and Office 365 gathering in Europe.
Crow Canyon, a Silver Sponsor, will be in booth #52, meeting potential customers, showing demos of its SharePoint & Office 365 productivity applications, and raffling off prizes.
"We look forward to meeting our European customers as well as many new people from all over the continent," said Scott Restivo, CEO of Crow Canyon Software. "Crow Canyon has been selling software in Europe for nearly 20 years and we have customers in almost every country there."
Crow Canyon's applications turn SharePoint and Office 365 into true business delivery platforms, improving operations and increasing productivity for organizations around the world. These applications include IT Help Desk, Customer Service, Employee Services, Asset Management, HR, Facilities, Marketing, Purchasing, and others, as well as custom development projects.
The European SharePoint Conference, held at the Dublin Convention Center in downtown Dublin, begins November 13th with full-day pre-conference workshops. The conference continues with three days of activities including 100+ sessions led by SharePoint experts from around the world. The Expo Hall is open November 14 to 16.
For more information on the conference, see: http://www.sharepointeurope.com. If registering, use Crow Canyon's discount code ESPC17SP for a 10% discount.
About Crow Canyon Software
Crow Canyon Software delivers the power of a connected, digital workplace to your organization, helping you be more successful and competitive. We provide the tools that allow you to gain the maximum benefit from SharePoint and Office 365, Microsoft's premier collaboration platforms.
Our programs run in all versions of SharePoint, including on-premises and Office 365/SharePoint Online. They are easily installed and configured, with no coding, to meet your organization's needs.
Visit www.crowcanyon.com to learn about how our business productivity applications for SharePoint and Office 365 can power up your organization.