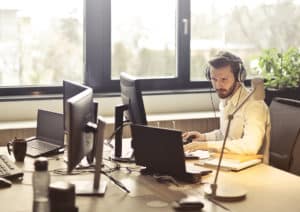 It sounds like a well-worn adage for every business out there: develop and maintain good customer service. Sure, it seems obvious enough, but with so many things to organize and manage overall, sometimes turning that advice into a concrete process can get lost in the shuffle.
Any way that you can maximize the effectiveness of this vital aspect of your business is worth adopting, and Crow Canyon's Customer Service Management for SharePoint does just that, making the process completely comprehensive and yet simple to use.
Provide Your Customer Service Team with Excellent Tools
Put SharePoint to work for your sales and customer service teams for the bottom line result: providing better service for your customers.
Fortunately, Crow Canyon provides a full lifecycle, all-in-one customer management system. With it, you can track:
accounts
contacts
leads and opportunities.
Your customer service staff can track cases and issue tracking with auto-notifications, alerts, knowledge-based team collaboration, dashboard and reporting.
There's also an optional equipment module. If your business involves selling or servicing equipment, add this and you can bring account, service and equipment management together in one complete solution. Additionally, because it all works together, you can now cross-reference by accounts, cases, equipment and more.
Crow Canyon's Customer Service Management has More Solid Benefits
A user of this wide-ranging system can, for example, look in an account to see all cases that have occurred within it, as well as all equipment that's installed and all cases against the equipment, as well.
In essence, it's a complete life cycle system to support your organization, from pre-sales through post-sales support and service.
Importantly, Crow Canyon's Customer Service Management is built on native SharePoint, so that it is 100% customizable by a SharePoint user. This gives them the ability to change forms, add and/or change fields, use dashboards and so on. There is also the capability to customize role-based workspaces, set approval workflows, and define advanced alerts and notifications to your needs.
Other advantages include:
full mobile smart phone access
ability to export all data to Excel, Access, or SQL
ways to link correspondence, such as e-mail, as well as take communication notes from calls, to accounts, tickets and even equipment.
In addition, users can easily connect through SharePoint with back office systems to pull important data into the customer service management system.
Crow Canyon's Customer Service Management is your solution to your service, sales and equipment-based business. The customer comes first: solid advice that continues to ring true for a very good reason: it works!

Scott Restivo has worked in the IT industry for over 20 years. A certified systems engineer, with CNE, MCSE, and CCNA designations, he consulted to major corporations and the military …read more
Creative Commons Attribution: Permission is granted to repost this article in its entirety with credit to Crow Canyon Systems.