Will InfoPath Forms stop working on Office 365 at some point? Almost certainly "Yes", but how much longer does one have to find a replacement for Infopath forms? Exactly when is not as definitive as it is for SharePoint 2016. It could be much sooner than the "extended support" end date of July 2026 set for SharePoint 2016.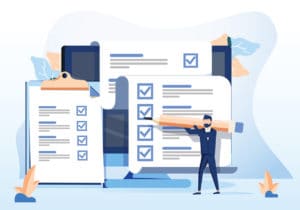 Microsoft stopped development of InfoPath Forms Services in 2013. However, due to the extensive legacy use of InfoPath, and because there was no replacement tool available, Microsoft included InfoPath in SharePoint 2016, SharePoint 2019, and Office 365 – but with no new features or enhancements.
Microsoft's support for InfoPath 2013 matches the support lifecycle of SharePoint 2016: mainstream support to July 2021 and extended support to July 2026. This applies to InfoPath in both SharePoint 2016 and SharePoint 2019.
But the support situation on Office 365 is a bit different. There is no support lifecycle for Office 365 since it is continually updated. So how long will InfoPath forms work in Office 365?

Microsoft's Chris McNulty Chimes In
In 2017, Chris McNulty, Microsoft Senior Product Manager for SharePoint and Microsoft 365, wrote in a Tech Community blog that the "2026 date [for extended support] has no relationship to a 'date' for Office 365." He said "there is a different governance for service removals in Office 365," and mentioned a strict guideline for removal of Office 365 services (such as InfoPath) of "at least 30 days when there is a replacement product and 365 days when there is not."
However, he did concede that Microsoft cannot take InfoPath out of Office 365 without significant lead time. He pointed out that for Access WebApps, "we communicated service removal 15 months in advance."
Uncertainty over End of InfoPath in Office 365
This leaves a high degree of uncertainty as to when InfoPath will no longer work in Office 365. But more important is that InfoPath is deprecated and no longer gets any investment for new features. No new enhancements are being added, and InfoPath will remain behind the technology curve with its lack of mobile and cloud integration, outdated use of XML and XSN, and missing support for modern browsers. Therefore, companies must find a replacement for Infopath forms soon!
As it is, InfoPath forms with custom code don't work on Office 365 due to their reliance on sandbox solutions, which have been removed from Office 365 (SharePoint Online). InfoPath developers have to delete this code from the forms (which could impact functionality) or switch to other form solutions. This Microsoft doc from 2018 explains this in detail: https://docs.microsoft.com/en-us/sharepoint/dev/solution-guidance/sandbox-solution-transformation-guidance-infopath
InfoPath Forms: Outdated, Legacy Tool
InfoPath is a legacy tool that lingers on due to the vast user base. Microsoft is pushing people to move off InfoPath and find new solutions as soon as possible. (Here at Crow Canyon Software, we offer our NITRO Studio, an excellent replacement for InfoPath Forms Services.)
With InfoPath, organizations are missing out on the many new capabilities that modern forms and workflow solutions provide. High on that list is mobile and cloud capabilities. When InfoPath was first developed in 2003, the iPhone was still 4 years in the future and Azure 5 years out. InfoPath was not created with mobile and cloud services in mind.
Web browsers have also moved on substantially since InfoPath was developed. The use of HTML 5, CSS4, and other modern browser technologies were not available when InfoPath came out.
Better to Switch Now to Modern Forms & Workflow Solutions
The bottom line is that organizations can use InfoPath in Office 365, but why would they want to? It has a limited future, is missing critical features, and is being phased out. Meanwhile, there are number of good forms and workflow solutions. We of course put our NITRO Studio at the top of that list, but there are also Microsoft's Power Platform, Nintex, K2, and others.
As Microsoft said in 2018: "Now is the time to start thinking about your replacement for InfoPath forms to other solutions." Given that it is now 2020, it is not just the time to start thinking about it, but time to start making significant progress in that direction.
*********
RESOURCES
Crow Canyon offers the following resources to help you get going:
A set of resources at https://www.crowcanyon.com/infopath-replacement/
Downloadable eBook "Moving off InfoPath with Crow Canyon's NITRO Studio"
The Guide to moving your InfoPath Forms
Webinars – live and on-demand. See: https://www.crowcanyon.com/resources/webinars/
Free one-hour "Replacement for InfoPath Forms Strategy Sessions" – contact sales@crowcanyon.com for details.