Survey of 600 companies shows only 1/4 completely on Office 365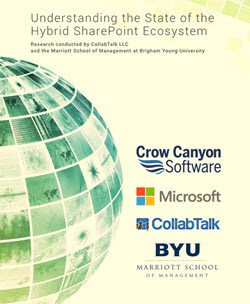 A recently completed research report, "Understanding the State of the Hybrid SharePoint Ecosystem", provides some interesting insights into the adoption of Office 365 versus SharePoint on-premises.
In survey of over 600 companies, the researchers found that only 22 percent of the respondents are fully on Office 365. About one-third of those surveyed — 32 percent — said they use a hybrid SharePoint on-premises/cloud solution, and the rest, 46 percent, remain completely on-premises.
This means that on-premises and cloud have about an equal footing among this survey group, with a large portion using hybrid SharePoint to straddle both worlds. This is in spite of Microsoft's strong push to the cloud.
The researchers concluded:
"Overall, our findings reveal that hybrid SharePoint scenarios hold a very healthy and prominent position in the current Microsoft SharePoint environment landscape. In terms of company types, larger enterprise type companies of 1,000+ employees are the most prominent users of hybrid SharePoint and are likely to remain so. We also discovered that the need for hybrid as an environment type will likely remain a viable market space for the foreseeable future."
Crow Canyon sponsors research project, along with Microsoft and others
Crow Canyon Software, in its effort to support the SharePoint and Office 365 community, was one of the main sponsors of this CollabTalk / BYU Marriott School of Business research report. The purpose of the study was to identify the top concerns or problems with hybrid SharePoint environments, and to provide insights into where customers, partners, and Microsoft can improve their strategies.
"As an ISV selling business applications that run on SharePoint, the question of hybrid usage is quite important to us. With SharePoint on-premises and Office 365 being different programming environments, we need to know where to direct our developer resources," said Scott Restivo, CEO of Crow Canyon Software.
"With this study, we can see that there is a need to maintain comparable efforts in both environments. While there is a general 'move-to-the-cloud' direction in this market, a substantial number of organizations, especially larger ones, will be maintaining hybrid SharePoint scenarios, and therefore, we will continue to enhance our applications on both versions of SharePoint, with comparable feature sets."
Download the full report here.
Crow Canyon has developed deep relationships with SharePoint & Office 365 experts across various disciplines. We can be a resource to make connections of other solutions that can benefit your business and your customers. To learn more about Crow Canyon Software's Partner Program, click here!