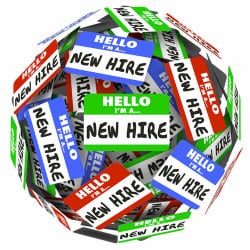 Need to streamline Human Resources processes? Crow Canyon can help! We have the following Office and SharePoint HR module / applications:
ONBOARDING/OFFBOARDING – Simplify and organize bringing new employees or contractors on board, as well as make offboarding as painless as possible. Rather than using emails or paper forms, our SharePoint system creates tasks that are routed to the right person or group at the right time. This often spans multiple departments, such as HR, IT and Facilities, so having a centralized management system is key. Learn more about Onboarding with SharePoint and Office 365.
LEAVE REQUESTS – Let's face it – people need to take vacations and your HR department needs request tracking to be as easy as gliding into a lounge chair on the beach. Our system handles leave requests from initiation through approval, routing it to the correct departments, and finishing off with a report back from the employee after returning. The system organizes and tracks each request, who approved it, and what days were actually used and when.
HR FORMS & REQUESTS – Human Resources has a lot of forms because they handle so many types of requests: PIC (personal information change), benefit requests, access requests, job openings, training, and so much more. Crow Canyon's system smooths out the processes. We call this "forms-based, process-driven" — which simply means that there is a form with specific information the user must fill out and then the workflow behind it runs a defined set of steps to process it. We work with you to automate your HR workflows, seeing where we can simplify things and making sure the right forms have the right information and are routed to the right people.
How can you find out more about our SharePoint and Office 365 for applications for HR?
Crow Canyon offers several ways to improve your HR processes by leveraging the power of Microsoft Office 365 and SharePoint HR module / applications. Click this link to learn more about our HR Processes & Benefits Applications. You can also send us an email at sales@crowcanyon.com or give us call at 1 925 478-3110 to see how SharePoint and/or Office 365 can help your HR Department work better, smoother and faster!