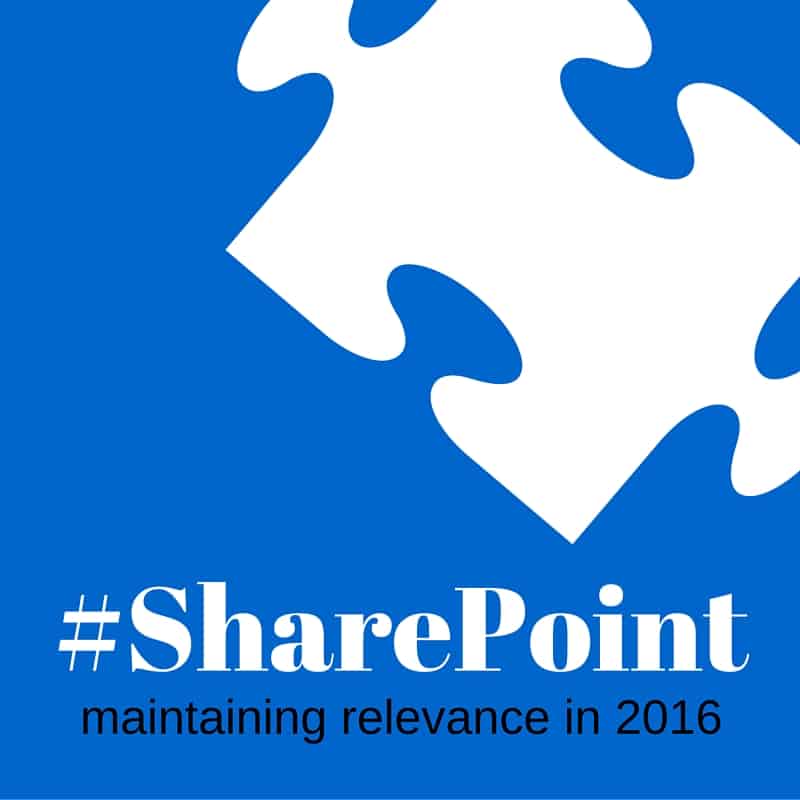 This year promises to bring some exciting new changes to the IT scene, the most notable of which will be the introduction of SharePoint 2016 in the second quarter. If you want to catch up on some of the expected features, please check out our article, SharePoint 2016: It's All About the Cloud.
With SharePoint 2016 on the horizon, many organizations will contemplate whether or not to upgrade from SharePoint 2010 or 2013; companies not using SharePoint may decide that 2016 provides a good entry point into the SharePoint universe. With 2015 behind us, let's look at factors potential SharePoint adoptees may want to consider, along with why SharePoint, at age 15, is still relevant today.
SharePoint has come a long way in 15 years. From 2001 to 2009, Microsoft steadily improved SharePoint's core features, such as sites, content management, and workflows. SharePoint finally started to come into its own with the 2010 release. The 2013 version enhanced SharePoint's social, mobile, and cloud features while upgrading the platform's scalability and reliability. SharePoint 2013 also introduced the App Model for developers, a strategy that protects the server's core while still allowing flexibility and creativity in developing add-on solutions.
SharePoint 2016
SharePoint 2016 doesn't necessarily introduce any ground-breaking technology, but it promises to be faster (zero downtime patching), smarter (cloud hybrid search), and more mobile-friendly (HTML5) than its predecessors. While SP2016 will run just fine, thank you, on its own in an on-premises scenario, it does include a number of "cloud-accelerated experiences". That is, it can be an integral part of a hybrid environment, with features on-premises, but also with tight integration with Office 365, particularly with regards to compliance configurations and search capabilities across on and off premises environments. On the whole, Microsoft has improved a plethora of existing SharePoint features for the on-premises crowd while gently pushing customers toward its vision of a "cloud-first world."
Looking at the big picture, SharePoint has aged relatively well given the fact that it was introduced in an age when only 7% of worldwide Internet users had broadband, Hotmail was the e-mail client of choice, and the majority of Americans didn't even have Internet access. The Office 365 and SharePoint eco-systems have made some significant strides over the years and, arguably, have managed to maintain their relevance, particularly in burgeoning IT sectors:
Business Intelligence: Advancement of BI capabilities via Power BI and Excel 2016, with a focus on moving functionality to the cloud;
Data Science / Predictive Analytics: Continued development of Office Graph as a back-end data science app and Office Delve as a front-end predictive analytics interface;
Creative Apps: 13% of all new Office 365 development is related to Office Sway. What's Sway? Check out our blog post "Delve, Mix, and Sway" to learn more about Microsoft's newest additions to the Office 365 world;
Social Media: Microsoft explored new ground in 2012 with the acquisition of Yammer (a social networking service). The assignment of Yammer to Microsoft's Office 365 team in 2014 signaled a strong interest in integrating social media capabilities with its flagship productivity platform.
Other veteran collaboration platforms, such as Lotus Notes, haven't been able to keep pace with technology with the same success as SharePoint. This is a testament to the importance of continually adapting to technology while forecasting customer needs. In essence: making the rules of the game instead of perpetually playing catch-up.
—
Crow Canyon Systems has 18 years of experience assisting organizations in leveraging their existing infrastructure, rather than requiring new hardware & technologies. We specialize in building upon your collaboration platforms, such as SharePoint and Office 365, in order to give your Help Desk and Support Staff the tools they need to provide assistance without the need for additional infrastructure.
Want to learn more about how our solutions can transform your SharePoint experience? Give us a call at 1-925-478-3110 or contact us by e-mail at sales@crowcanyon.com