"We remain committed to our customer's on-premises and do not consider SharePoint Server 2016 to be the last on-premises server release." — Bill Baer, SharePoint Senior Product Manager blog post, May 4, 2016.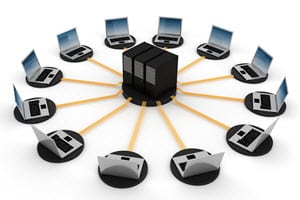 With the release of SharePoint 2016 last week, Microsoft confirmed its commitment to providing a powerful and innovative on-premises SharePoint platform.
Previously, the buzz in the SharePoint community was that Office 365 was where the action is, with its rapid implementation of new features and capabilities, and that SharePoint on-premises would be left in the dust, always a release cycle or two behind the online juggernaut.
But with its Future of SharePoint presentation May 4th, Microsoft made clear its goal is to "enhance the quality of your on-premises SharePoint solutions" and "enable you to take advantage of innovations we introduce to Office 365". In other words, on-premises is here to stay and will be improved and enhanced right along with Office 365.
Areas of Significant Value in SharePoint 2016
Microsoft listed three areas of "significant value" in SharePoint 2016:
1) Cloud-inspired infrastructure that improves performance, reliability, manageability, and scale. SharePoint 2016 now operates with the same code base as SharePoint Online (in Office 365), facilitating support and upgrades while supplying a common set of developer tools.
2) Compliance and reporting tools. Data Loss Prevention (DLP) and other tools protect sensitive data and meet compliance requirements, while allowing collaboration both internally and with external partners.
3) Enhanced user experiences. With improved mobile, seamless experience across on-premises and cloud, and improvements to document libraries and navigation, SharePoint 2016 seeks to enhance the user experience and drive user adoption.
Quick Delivery of Office 365 Features to SharePoint 2016
With a unified code base for SharePoint Online and on-premises, Microsoft will be able to deliver new features and innovations developed in Office 365 to SharePoint 2016 customers. The intention is for users to have a common experience across both SharePoint worlds. This turns "hybrid" from being an uneasy marriage of on-premises and the cloud into a smooth, seamless working environment where it does really matter that much where the data resides and from which direction the user accesses it.
Microsoft stated that while innovations will be delivered to Office 365 first, these will be made available to SharePoint 2016 customers quickly through Software Assurance Features Packs. One of the drawbacks of SharePoint on-premises was that major new features could only be provided in the next release, whereas Office 365 would have them right away. But with this new commitment to "modernize experiences, patterns, and practices in SharePoint Server", we should see SharePoint 2016 improve in close conjunction with Office 365.
Moving to a Mobile-first, Cloud-first World
Underlying Microsoft's announcements about SharePoint 2016 is an aggressive push to the cloud, specifically Office 365. Microsoft calls SharePoint 2016 "a foundation for the future" but also the "next step in the journey … to innovate new experiences in Office 365."
With hybrid functionality, a unified code base, new Office 365 features showing up on-premises, SharePoint 2016 can certainly ease a transition to the cloud, if that is where you want to go. However, even by itself, this latest version of on-premises SharePoint offers a strong platform for business applications, business process automation, and team collaboration.
As Microsoft has declared, "the future of SharePoint Server is bright".