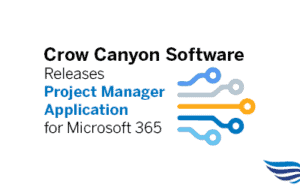 Crow Canyon's Project Manager application for SharePoint & Microsoft 365 drives organization forward, helping them deliver projects on-time with reduced effort and cost.
Crow Canyon Software announces the release of its Project Manager for Microsoft 365 & SharePoint, an application designed specifically to use the power of Microsoft's collaborative platforms to keep projects on-track and on-time.
Based on Crow Canyon's NITRO Studio application builder, the Project Manager brings the many features of NITRO to the project management world. With NITRO's intuitive, dynamic, mobile-friendly forms and powerful workflow and actions engine, the Project Manager drives successful project delivery throughout an organization.
The program can run on SharePoint 2013, 2016, and 2019 as well as Microsoft Office 365. When running in Microsoft 365, Project Manager can utilize NITRO's Microsoft Teams integration to deliver project updates and create actions in Teams.
Keep projects organized and get the work done with Crow Canyon's Project Manager for Microsoft SharePoint & Office 365.
The Project Manager application gives a comprehensive view of all projects, with drill-down into each project, and each task within a project. It gives project managers as well as staff complete visibility into project status, milestones, costs, and tasks, as well as third-party interactions. It allows easy communication between all parties concerned with completing the project.
Its mobile-friendly, intuitive design, based on the familiar SharePoint and Microsoft 365 interfaces, gives users a high-level of comfort and ease-of-use. No extra permissions or logins are required as all access is based on existing Microsoft logins.
The Project Manager leverages the collaborative capabilities of Microsoft Office 365, Teams, and SharePoint along with Crow Canyon's NITRO Studio to power project success at organizations of all sizes and in all industries.
Contact sales@crowcanyon.com for a demo and more information.
For original Press Release, please click here.