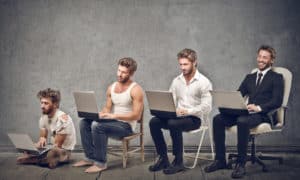 It's been a long journey to SharePoint 2013. Before SharePoint existed, in the days when Windows XP was still being developed, its forerunners were products like Officer Server, Site Server, Tahoe and Platinum. These featured basic web content management, document management, a little ecommerce, and the like. Messaging and collaboration were parts of the early products but quite rudimentary, while the web management side was what needed most development.
The First Versions of SharePoint
SharePoint Portal Server was launched in 2001. In those days it didn't allow for much interaction with end users because, before then, it was mostly an application for document management. The setup was very traditional: a lot of end users working with a small IT team to solve their business problems. End users would formulate their requirements and then hand them over to their IT department to do the rest. IT staff defined all functionality required and then worked inside SharePoint to examine problems and implement solutions.
It was a slow process initially to include more portal features. In late 2003, under the wider Office 2003 umbrella, Microsoft released Windows SharePoint Server as part of Windows Server 2003. It had an improved user interface, better personalization, and a collaboration store.
SharePoint 2007 – 2010
By 2007, document and records management were once again market priorities, alongside web content and portals. It was only with the advent of SharePoint 2007 that the platform as we know it today took shape. This was when SharePoint moved to being more of a collaborative platform, allowing end users more interaction.
End users were given the option to navigate the platform to create team sites and manage workflows. It was SP2007 that first accommodated a fully functional and integrated content management system.
Following extensive development, customer feedback and beta testing, SharePoint 2010 provided enhanced capabilities like better integration with other Office applications. It empowered staff at all levels by providing services to improve and expand business connectivity. It also automated the workflow process, which had a major impact on business efficiency.
The New Generation: SharePoint 2013
SharePoint has always been associated with document management. With SP2013, users can easily upload documents into specific folders and libraries for easy retrieval.
SharePoint 2013 has also harnessed the exploding power of social media. It has evolved to support mobile users, which has meant a vast improvement in business service delivery.
Support for big data has been added. SP2013 accommodates much larger data sets that can be compressed and filtered while in the server's memory. This allows data operations to occur very quickly.
SP2013 has improved features for the design of company sites and the layout of content. Developers can use the platform to create master page and content page templates to adhere to brand guidelines.
Perhaps the biggest evolution from early SharePoint to SP2013 has been the move from strictly PC-based services to cloud-based. Cloud-based hosting has the following advantages:-
• Cost savings. Save on the purchasing and maintenance of hardware/software and pay only for the resources that you use within the cloud.
• Cost savings on server and software upgrades.
• Cost savings on IT admin.
• Limitless scalability.
• Downtime is less likely.
• More flexibility in IT choices.
• IT staff can focus on business development projects.
• Increased security off-site for sensitive data and intellectual property.
• Better disaster recovery.
Have you migrated to SharePoint 2013 yet?
Creative Commons Attribution: Permission is granted to repost this article in its entirety with credit to Crow Canyon Systems and a clickable link back to this page.