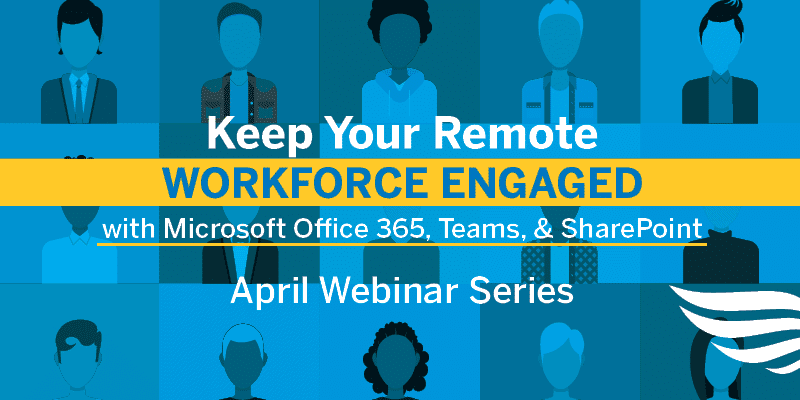 Crow Canyon's business applications for SharePoint and Office 365 help keep your remote workforce connected and engaged. We have offered a range of core business applications on SharePoint and Office 365 for years. Now, with the coronavirus shutdown causing many of us to work from home, these applications are particularly appropriate as they make it easy for remote staff to work efficiently.
See our April Webinar Series "Keep your Remote Workforce Engaged with Microsoft Office 365, Teams, & SharePoint".
Help Desk: Our Help Desk can handle a wide variety of IT-related issues, questions, and requests. Users enter and view tickets through email, SharePoint, or a self-service portal, using a desktop or a mobile device. Staff can respond to problems and needs quickly and easily, which keeps the remote employees on track and productive. All issues are tracked and managed, with reports, KPIs, and dashboards to show important progress statuses. Notifications, escalations, custom actions, SLAs, and more add power to the staff's ability to resolve tickets expeditiously.
The Help Desk, as are all our applications, is highly configurable. It can be used "as is" out-of-the-box, or it can be modified to fit an organization's specific needs. The Help Desk is geared for IT support issues, but it can easily be adapted to manage just about any support or service desk operation.
Request Management Applications: In addition to our Help Desk, we provide tools to manage a variety of request scenarios, such as purchase requests, work orders, access requests, HR issues, onboarding, and more. Our request manager institutes a digital workflow – the user makes the request, it goes through an approval process (if needed), and then it is sent to the appropriate staff for fulfillment.
That may sound simple, but in the real world, there are many nuances to a request process –what is being requested, who is requesting it, what the cost is, what permissions and approvals are needed, how critical is the request, etc. Our request manager program is flexible enough to handle any of these variations. It comes with easily customized dynamic forms, a robust and configurable workflow engine, and a reporting feature that provides continuous feedback on request progress.
The remote workforce can make requests and be confident that the system will facilitate fulfillment. This is especially important when people are not in the office and cannot just "stop by" to find out if their request is in progress. With a request management tool that makes it easy to not only submit a request but also to view status, workers are not left wondering if and when their request will be answered.
NITRO Studio-based Applications: All our applications are based on our NITRO Studio framework. NITRO Studio comes with a forms designer and workflow engine that give administrators powerful control over the look-and-feel and functionality of the application. The applications, along with the NITRO Studio foundation, run in SharePoint on-premises and in Office 365 (soon to be renamed "Microsoft 365"). They are easy to install, very reasonably priced, and well-supported.
Check them out – and see how easy it is to keep your remote workforce engaged!
Register for our April Webinar Series – or simply contact Sales for a one-on-one demo.