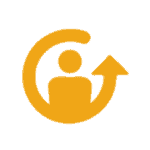 Earlier this year we posted a blog introducing the O.V.E.R. Methodology, a process designed to effectively address potential challenges when introducing changes into an organization. As IT companies mature, it's natural to introduce many types of change, such as administrative, HR, and procedural changes. One of the most significant changes that a company can undertake, however, is to introduce a new software platform for use by all employees. In particular, we're talking about Microsoft SharePoint and Office 365.
The pain felt in introducing or expanding use of SharePoint or Office 365 is really two-fold. The most straightforward challenge is training: getting employees up-to-speed on SharePoint's functionality, how it integrates with other applications, and best practices. It's not enough, though, to have a training program, grant access to SharePoint or Office 365, and then hope for the best. The biggest obstacle is User Adoption — will they use it? After all, just because a team member "should" doesn't mean that they "will," no matter how persuasive—or coercive—your company's approach.
SharePoint Turning the Corner, Slowly but Surely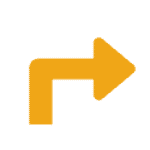 Up until recently, SharePoint user adoption was a long-standing complaint in the global IT community. Unlike Microsoft's business productivity suite of Excel, PowerPoint, and Word, user adoption of the SharePoint environment has lagged behind. Although this is often attributed to functionality challenges, many believe that the greatest contributor to SharePoint's poor adoption rates was its unintuitive User Interface & User Experience (UI/UX). The proof has been in the numbers: despite a rapid increase in SharePoint license sales, end-user adoption rates simply did not follow suit.
Back in July of this year, we briefly discussed the user experience issue and how Microsoft has started to align its SharePoint product roadmap with the UI/UX gains seen in its other applications. One of the first recipients of this "Microsoft UI/UX Love" was the SharePoint Home Screen, which benefited from a major overhaul. Significant changes were made in terms of standardizing the look & feel (now quite Delve-like), using a Sites-centric layout, providing content accessibility regardless of data location (on-premises, online, or hybrid), and integrating intuitive Graph-powered content (i.e., predictive content based on a user's unique SharePoint history/preferences).
Millions of SharePoint enthusiasts around the world are obviously thrilled about the future of SharePoint and how Microsoft's newfound focus will play out in terms of SharePoint updates and versions in the coming years. Alas, though, Rome was not built in a day and the changes to the SharePoint Home Screen, while a good first step, are just that: a first step. UI and UX improvements have now pushed their way to the front and are getting their share of developer attention, but standardizing, testing, and perfecting those changes for real-world deployment will take a significant amount of time.
Putting the Focus on UI/UX in SharePoint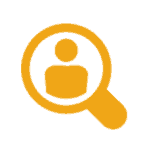 The topic of User Adoption is a big one; after all, there are many factors that contribute to sub-par usage levels. Confusing functionality, unreliable support, company culture, lack of formal processes, and weak infrastructure are all ingredients that contribute to dwindling user adoption rates. An argument can be made, though, that the most significant factor in dismal user adoption rates is a poor User Interface & User Experience.
To put it simply, who's going to use a product that they don't like? A "likeable product," in this context, means a solution that is user-friendly, behaves as you expect it to behave, and is intuitive. No extra user thought processes should be needed to perform simple functions; the app should work as expected.
This ideal scenario reflects the successful combination and implementation of both User Interface & User Experience :
User Interface: The focus here is on functionality and user interaction with a digital interface. Are fields intuitively placed on the screen? Do drop-downs work without covering important data? Is it easy to use the scroll bar? and so on. UI is tactical and involves how users interact with functional elements. If you have a hard time browsing through menu options, then that's a UI problem;
User Experience: UX is a broader term that encapsulates all aspects of how users interact with a solution as a whole. Factors such as branding, marketing, colors, layout, and navigation all play a part in forming the user experience. UX is strategic and involves how users engage with a solution. If you find a solution confusing, aesthetically displeasing, and unintuitive, then that's a UX problem.
So, in terms of UI/UX, it looks like SharePoint is on the right path but it will take time. Broadly speaking from a customer perspective, this reality reflects the Microsoft experience as a whole. Microsoft SharePoint and Office 365 cannot be all things to all people: it is, after all, a complex framework that may or may not address your company's specific business needs. Waiting, and hoping, for Microsoft developers to create an experience catered to your requirements is obviously a lesson in futility.
For many companies, there is a need for business productivity solutions integrated with SharePoint and Office 365 that meet their specific needs. They need solutions that not only exceed their UI/UX expectations, but are capable of surpassing the functionality of a standard SharePoint / Office 365 deployment.
Introducing NITRO™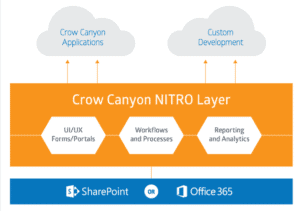 Crow Canyon's NITRO™ technology layer is the foundation from which we provide highly capable, full-featured applications for Microsoft SharePoint and Office 365. NITRO™ takes you beyond the default SharePoint and Office 365 experience by providing you with business functionality that can be configured, tailored, and deployed to your Microsoft environment with no extra code required.
User adoption is a big part of our NITRO™ technology layer and how it powers Crow Canyon's range of SharePoint & Office 365-based applications. In fact, user adoption is part of our "Three Pillars" of the NITRO Layer:
UI/UX: User adoption and ease-of-use is critical to application success. NITRO™ employs forms, portals, dashboards, branding, and responsive mobile interfaces to enhance SharePoint and engage users and staff;
Workflows & Processes: Whether involving simple or complex workflows, NITRO's many capabilities deliver the routing, approvals, processing, tracking, alerting, etc., needed for serious and substantial business applications;
Reporting & Analytics: Robust reporting tools gives the insight needed to measure and improve service. Employing dashboards, charts, graphs, tables, and more… NITRO™ provides the information that guides continuous service improvement in your organization.
Want to learn more about how our solutions can help your company engage with your customers and/or users? Give us a call at 1-925 478-3110 or contact us by e-mail at sales@crowcanyon.com