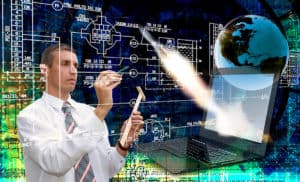 Virtual Machines are used extensively in the IT world. They are easily brought up and taken down, allowing quick deployment and reconfiguration, while saving on resources. Virtual Machines, or "VMs", are especially useful when testing hardware and software in different environments.
One of our clients builds virtual machine "laboratories" for the US Military. Our client is required to rapidly deploy complex "lab" environments to test out new software systems on demand for any branch of the military. The stakes are high, as many of these systems are used in critical military situations.
Our client needed assistance with managing the wide array of IT assets needed for these virtual machine labs. As part of deploying a new lab, the client needed access to stored information about the particular military unit that wanted the lab to be built. Our client had a SharePoint 2013 environment in place and wanted to use it for the lab management – both for the IT assets and for the "customer" information (the military unit's contacts, past projects, etc.).
We adapted two of our SharePoint applications for this client. In this blog, we will talk about our client's requirements and discuss how our NITRO™ powered solutions were able to address these needs.
Challenges of Virtualization
Establishing a fully functioning test environment involves installing an operating system, drivers, and configurations, and other core elements along with components specific to the machine (applications, software dependencies, customizations). Every application and service that is installed has its own set of help documentation, templates, installation parameters, and configuration settings.
To make matters more complex, customer data has to be matched with project provisioning requirements. Our client needed to view customer details, access views of their IT environments, review past projects, and be able to effectively handle implementation and problem solving post-setup.
Using Crow Canyon SharePoint Solutions
After listening to our client, we realized that a dual approach was required to address the scope of the business needs. We recommended the following SharePoint-integrated solutions:
Asset Management program: Used to manage a large number of IT assets for provisioning to virtual machine environments;
Customer Support program: Used to maintain a historical record of customers and their IT environments while providing powerful tracking and knowledge base capabilities for subsequent support.
Using SharePoint to Keep Track of Assets
Virtual environments enable the testing of new hardware and software configurations in a safe space that is isolated from development and production environments.
Crow Canyon's Asset Management platform provides a range of functionality that goes far beyond mere asset details. Our client was able to use multiple features to gain the real-time visibility needed, such as:
Asset/device data: With just a few clicks, our client was able to view summary and detailed information about the virtualized assets in an intuitive, easy-to-use dashboard interface. The Asset Management platform provides valuable real-time data designed to convey exactly what's going on with deployed software and hardware assets, such as:

Who is responsible for the asset?
The asset's current status (e.g., deployment and operational status).
Check-in/check-out data (know who is currently using the asset, how long they need it, and when it will be returned or no longer used).

Alerts & notifications: A high-level of configurability enabled our client to customize alerts and notifications so all parties could receive warnings when needed. A variety of system actions can trigger alerts, such as changes in status or outstanding support issues.
Maintenance and licensing: The Asset Management platform maintains a comprehensive history of all assets, such as work performed, cost, related documents, software licensing details, and procurement information. Our client was able to address future maintenance actions by setting up recurring maintenance tasks, schedules, and license renewals.
Connecting Assets and Customer Information Using SharePoint
In addition to keeping track of virtualization assets, our client needed to integrate a large amount of customer information. This data not only included customer contact details, but delved into their specific requirements, level of accessibility, and IT environments.
Our client required the capability to easily access detailed customer information and then correlate it with deployed assets. Post-deployment, our client needed to offer a level of support for virtualized assets — this meant quick access to relevant content for an extensive asset inventory. All support interactions had to be tracked and then follow a configured workflow from initial point-of-contact to closure.
With this in mind, we implemented our Customer Support platform with the following features:
Automation: Crow Canyon's Customer Support platform uses automated workflows to eliminate wasted time and lower operating costs. The system supports multiple points of origin for support requests, including e-mail, a Web-based customer portal, text, and telephone. Configurable workflows enables all incoming requests to be automatically routed to the correct recipients, including approval processes.
Cross-platform knowledge base: The integration of our Customer Support and Asset Management platforms enabled our client to maintain asset-specific documentation as well as customer-specific content. When an incoming support request was made, our client was able to quickly pull up the customer record and access all technical documentation for deployed assets. This seamless integration empowered our client's support team to easily view a wide variety of information when needed, such as asset details, maintenance history, customer's IT environment, and support histories.
Dashboard command center: Our dashboard interface is fully configurable and can convey critical information at-a-glance in terms of both asset and customer support issues. A single interface displays key data, such as overdue support tickets, high priority statuses, and asset status changes.
Robust Reporting and Analytics
Both the Asset Management and Customer Support solutions track and record for reporting and analysis, such as asset usage, status histories, time of overdue tickets, time spent waiting for approvals, etc. The report building can retrieve and compare multiple dimensions across both platforms. This versatility enabled our client to gain a deep insight into how the organization operated and to quickly identify potential bottlenecks before they became problems.
Conclusion
Crow Canyon's business productivity platforms integrate seamlessly with each other and with Microsoft SharePoint / Office 365, effectively enabling our client to fully leverage its infrastructure investments. The configurability of all of our modules negates the need for extensive customizations and long-term specialized training — companies have the freedom to select the platforms most applicable to them. Our NITRO™ powered technology requires zero coding, enabling our customers to quickly power-up their SharePoint and/or Office 365 environments with true business productivity solutions.
With the Crow Canyon applications, our client was provided with a future-proof foundation that empowered it to manage any type of virtual test environment while efficiently addressing the support needs of its customers.
—
Crow Canyon Software delivers the power of a connected, digital workplace to your organization, helping you be more successful and competitive. We provide the tools that allow you to gain the maximum benefit from SharePoint and Office 365, Microsoft's premier collaboration platforms.
Want to learn about how our business productivity applications for SharePoint and Office 365 can power up your organization? Give us a call at 1-925-478-3110 or contact us by e-mail at sales@crowcanyon.com. We look forward to hearing from you!