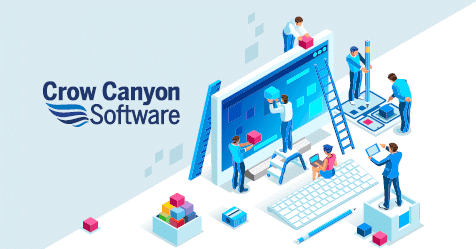 No-code technology allows so-called "citizen developers" to build applications using intuitive graphical interfaces. No-code platforms allow users to "drag-and-drop" components so they can create applications that automate business processes.
Businesses are jumping on this train because it pushes application creation down to the groups that use those applications and relieves pressure on an often over-burdened IT department. With the "developers" being close to people who will use the automated workflows – and in some cases, with them being that actual users themselves – the result is quicker development of programs that meet the group's specific needs.
For example, a no-code solution can empower Team Leaders to build out workflows, define how information is collected from customers or employees, and determine how a solution interacts with real-world business events. As the name implies, there is no need for business users to know how to write development code.

Before No-code, Programmers Needed to Build Solutions
Before no-code technology, a list of functional requirements was defined, a development team would write code for an initial version, testing would commence, results were refined, additional functionality may be added, and the lifecycle process would start anew until multiple iterations resulted in a finished product.
This SDLC (Software Development LifeCycle), though designed to introduce order, slowed down the production time for new solutions. In-house software developed by programmers certainly has its place and can provide vital functionality, but development times are often protracted.
No-code solutions can assist with these in-house efforts by freeing up programmers to concentrate on the bigger projects where their skills are needed. With business users creating commonly used workflows, the development team can focus on building more complex applications that require knowledge of C#, C++, and other languages.
At the same time, programmers are not excluded from using these no-code tools. Many find them a good way to amplify their work and ease routine tasks. Also, many "no-code" solutions have a "low-code" element, where JavaScript, CSS, and other code can be added to enhance the application, which requires some degree of familiarity with those scripting languages.
Wikipedia defines no-code technology this way:
"No-code development platforms (NCDPs) allows programmers and non-programmers to create application software through graphical user interfaces and configuration instead of traditional computer programming.
No-code development platforms are closely related to low-code development platforms as both are designed to expedite the application development process.
These platforms have both increased in popularity as companies deal with the parallel trends of an increasingly mobile workforce and a limited supply of competent software developers."
— Wikipedia: https://en.wikipedia.org/wiki/No-code_development_platform

No-Code Solution for SharePoint & Office 365: NITRO Studio™
Crow Canyon's flagship technology, NITRO Studio™, is a no-code, low-code solution designed specifically for building SharePoint and Office 365 applications. It enables people with a basic knowledge of SharePoint to design forms and implement workflows with ease.
NITRO Studio includes a range of components that give "citizen developers" the power to build efficient applications, whether simple or complex. It includes not only forms and workflow designers, but also email handling, print-outs, reports, list formatting, dashboards, and portals. It provides sophisticated functionality in easy-to-use interfaces.
NITRO Studio enables business managers to:
Improve operations by creating specific applications that fit business needs.
Create sophisticated forms, workflows, and reporting functionality withlittle to no IT background.
Engage directly with users via intuitive, mobile-friendly interfaces.
Replace outdated legacy systems that aredragging down productivity.
Pursuesolutions thatlower business costs across the board.
NITRO Studio works on SharePoint 2013, 2016, 2019, and Office 365's SharePoint Online. Read more about it on our web site, where you can arrange a trial or demo of this unique solution!
—
Crow Canyon Software delivers the power of a connected, digital workplace to your organization, helping you be more successful and competitive. We provide the tools that allow you to gain the maximum benefit from SharePoint and Office 365, Microsoft's premier collaboration platforms.
Want to learn about how our business productivity applications for SharePoint and Office 365 can power up your organization? Give us a call at 1-925-478-3110 or contact us by e-mail at sales@crowcanyon.com. We look forward to hearing from you!