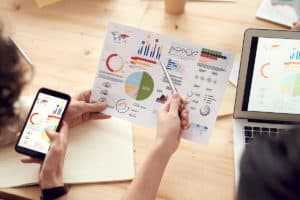 Keeping everyone in a company on the same page (literally) can feel like a gargantuan task. Multiple employees each have their own schedules and tasks that need to come together to make sure everything runs on point. Naturally, calendars must come into play, but when these exist within their own individual employee- or department-related bubbles, planning and tracking can become insular.
Creating an all-encompassing and more collaborative calendar system works not only to surface potentially conflicting schedules and deadlines, but also to streamline overall workflow effectively while keeping everyone in the loop. Enter, SharePoint calendars.
SharePoint Calendars in a Business Context
SharePoint calendars, much like the workflows discussed in a previous blog, is a service baked directly into the existing software, where practical functionality is standard. Essentially what SharePoint calendars allow is the collection of date- and time-based information in a single place for multiple staff members to access. This kind of master schedule helps in multiple ways, as it can:
Open information concerning deadlines to all workers
Collect scheduling information for workers
Surface asset tracking information/rentals
Use a SharePoint calendar to store any and all team events, including meetings and training sessions, as well as track deadlines or product release dates, for example, even those that aren't specific to a time interval. You can customize the default calendar, and create and update additional calendars as needed. SharePoint makes it easy!
Can SharePoint Calendars Hook into Office?
As a Microsoft product, SharePoint calendars has the ability to hook into an existing Office environment. One of the core pieces of software used in business is the email service, Outlook. Microsoft thought ahead and built in a kind of interconnectivity between these two products, meaning information entered into one can be exported to the other. For example, a shared work schedule in SharePoint can be uploaded to a personal Outlook account, keeping everyone informed and on top of the project as a whole.
SharePoint Calendars: Even More Pluses
SharePoint calendars can be set up so that employees can add items simply by sending an e-mail. SharePoint calendars can also be set up to also receive attachments to items via e-mail, as well. Manage the calendar updating process just as the updates to any list. You can even require approval for items that are submitted to a calendar and manage which groups of people can see events before they are approved.
See and easily manage schedules by day, week or month, or even create your own custom views. Navigate forward and back within any view, and even use a grid to browse your calendar. If you are viewing a conference event in June 2014, for example, then want to view a possible date for the following year's conference, you can quickly browse to June 2015. SharePoint calendars go beyond being handy; they are an indispensable tool.
Creative Commons Attribution: Permission is granted to repost this article in its entirety with credit to Crow Canyon Systems.