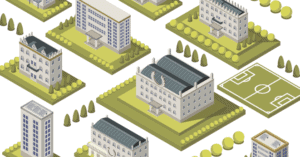 The operation of mid-to-large sized facilities, such as a university campus or medical center, requires a significantly robust system to handle the day-to-day realities of facility & work order management. Instead of opting for expensive bespoke solutions, why not power-up your existing Microsoft SharePoint or Office 365 platform?
NITRO Studio, from Crow Canyon, transforms your current infrastructure into a powerful work order and facility management platform with the scalability and capability to handle even the most complex scenarios.
Advanced Features Bring SharePoint to Life
The stress of daily operational facility management can be exhausting, especially if the system being used is overly complicated, insufficient, or not user friendly. Bottlenecks and inefficiencies can quickly increase the risk of delays and backups in work request and order fulfillment.
NITRO Studio, an application layer that sits on top of existing SharePoint and Office 365 environments, adds comprehensive work order and facility management features while leveraging your existing infrastructure. NITRO Studio adds both basic functionality – forms, workflows, alerts, reports – as well as advanced features that bring your SharePoint environment to life.
Customized User Engagement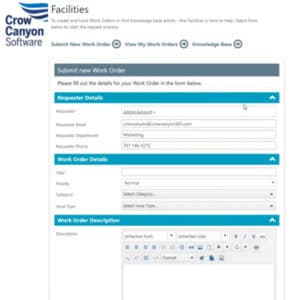 The Work Order management system, powered by NITRO Studio, enables companies to fully configure all aspects of the user experience, from user-facing portals and backend dashboards to comprehensive form design.
From the UI perspective, NITRO Studio empowers companies to offer multiple options for work order creation, such as via telephone, e-mail, and a web form. One of the most powerful, however, is the fully customizable User Portal. The User Portal follows Microsoft's new Modern UI methodology and, as such, enables organizations to combine SharePoint web parts with NITRO Studio's work order functionality.
From the User Portal, end users can easily create a new work order, view submitted work orders, access a knowledge base, view notifications, create work orders based on category, and so on. All content is 100% configurable, meaning that you are in charge of how information is presented and what type of content is displayed. For example, based on your configuration, perhaps users can only see work orders they created, or work orders their team created, or work orders specific to their office location, etc.
Configurable SharePoint Dashboards Give Insights
Meanwhile, the backend dashboard interface gives your operations team all the information they need to quickly get up-to-speed on the status of current work orders. Like the User Portal, the Backend Dashboard is fully configurable and can be customized based on type of data. Content examples include:
• Staff Dashboards: Personalized content for individual team members, such as "My Work Orders", "My Tasks", "My Open Work Orders by Priority", and "My Closed Work Orders by Month"; and,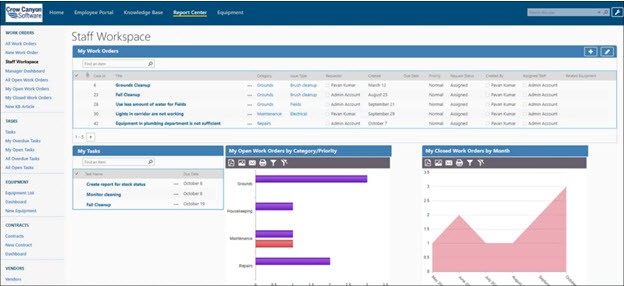 • Manager Dashboards: Personalized content for operational managers, such as "Overdue Work Orders", "Unassigned Work Orders", "Open Work Orders", "Calendar", "Links", and "Tasks".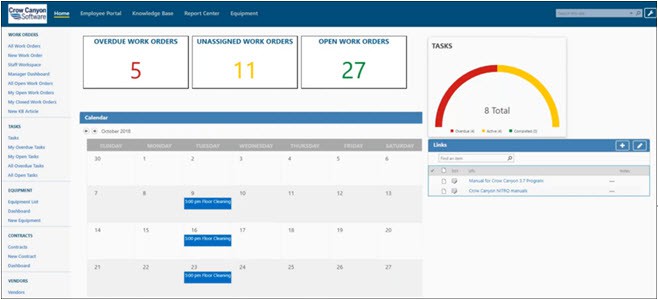 Workflow and Business Processes with SharePoint and Office 365
NITRO Studio's core functionality includes powerful workflow tools that empower your organization to define exactly how customers interact with the Work Order system. Forms are the workhorses of data collection, and NITRO Studio enables companies to create and display a variety of conditional content, such as:
Dynamic Forms: Conditional cascading fields populate based on previously-selected content;
Conditional Forms: Forms presented to a user can be selected based on any factor, such as the status of the work order (e.g., critical vs standard) and requester characteristics (e.g., new tenant, requester location, etc.); and,
Integrations: The Work Order system can be integrated with our Equipment Tracking system to enable users to easily associate work orders with facility equipment. For example, a user could search fora equipment item in a form and, when selected, all associated work orders involving that equipment would appear.
NITRO Studio's built-in configuration functionality enables companies to specify exactly how work orders move through the Work Order system. This includes:
Automatic Routing:Customizable workflows enable work order requests to be automatically sent to recipient(s) based on a wide variety of configurable factors; and
Approvals:Routed work orders can undergo an approval process and can be sent to any number of recipients.
Multi-level Approvals Using NITRO Studio
With NITRO Studio, the flow of a work order request is fully configurable. In a simple scenario, a work order request may be sent directly to a named recipient for approval. NITRO Studio provides a great deal of flexibility in terms of defining who an approver is — an approver can be based on a selected role, where the requester is located, what type of work order is being submitted, the severity/status of the work order, and so on.
The approval process itself can also be customized according to the need for multi-approver involvement. Two scenarios supported by NITRO Studio are Parallel Approvals and Serial Approvals:
Parallel Approval: A work order request is sent to multiple approvers at the same time. Based on your configuration, the work order could be approved when only one of theapprovers signs-off on the request. Conversely, you could also stipulate that all approvers need to unanimously sign-off on the request in order for it to progress.
Serial Approval: In this scenario, an approval is sent to a single approver; if they sign-off on it, then the work order is sent to another approver. This process can continue without end, essentially forming a chain of approvers. If any single approver rejects the work order, then the entire request is cancelled.
Integration with Line-of-Business Applications
NITRO Studio is a no-code solution that seamlessly integrates with your existing SharePoint and/or Office 365 platform. The system integrates with any existing database, such as SQL, MySQL, a Configuration Management Database, any internal database (e.g., customer information database, equipment data, facilities data, records), and ODBC-compliant databases.
The system also integrates with existing systems, such as:
CRM Systems
Financial Systems
ERP Systems
Barcoding and SCCM integrations
Powering Up SharePoint and Office 365
NITRO Studio transforms SharePoint into a powerful business process platform that features not only the functionality mentioned above, but a wide variety of advanced tools such as reporting/analytics, AI, modern UI, database integrations, and multi-level approvals. Crow Canyon's Work Order system, running on NITRO Studio, is a big leap forward for using SharePoint and Office 365 to meet work order and facility management requirements.
––
Crow Canyon Software delivers the power of a connected, digital workplace to your organization, helping you be more successful and competitive. We provide the tools that allow you to gain the maximum benefit from SharePoint and Office 365, Microsoft's premier collaboration platforms.
Want to learn about how our business productivity applications for SharePoint and Office 365 can power up your organization? Give us a call at 1-925-478-3110 or contact us by e-mail at sales@crowcanyon.com. We look forward to hearing from you!