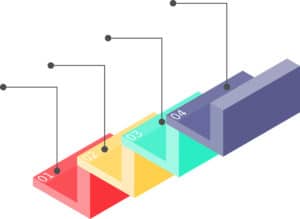 Need new hardware? Want access to a secure database? Onboarding a new employee? All these are "workflows" – a request needs to be initiated, then routed through the proper approvals; tasks need to be assigned, work needs to be done, and the request must be seen through to completion, whether fulfilled or rejected, or resolved in some other manner.
Crow Canyon's unique NITRO™ application layer is designed to give SharePoint and Office 365 business application this "workflow and business process" capability — without requiring custom coding.
In recent articles, we discussed the importance of User Interface and User Experience and the need to make applications intuitive and easy-to-use for end users. But it takes a lot more than good forms and friendly interfaces to make a great software solution — it has to run smoothly under-the-hood.
SharePoint Workflows and Processes – Under-the-Hood
Crow Canyon's NITRO™-powered solutions, such as IT Help Desk, Asset Management, Onboarding, and Security Access Requests, empower your employees to get their work done efficiently and effectively. With robust workflow capabilities built-in to our applications, the request fulfillment or incident resolution process is focused — and at the same time, highly configurable by business power users with no coding.
Performing workflow activity involves many moving parts, such as:
How are requests initiated, tracked, and resolved?
How are requests or incidents escalated?
How are approval processes handled?
How are alerts and notifications kicked off?
How can management and support personnel keep track of requests?
How can all involved stay in-the-know when requests are outstanding or overdue?
Case Study: The Help Desk Ticket
The lifecycle of customer/employee-initiated requests follows a workflow that is 100% configurable with no coding. In the example below, an IT company employee (requestor) uses Microsoft SharePoint or Office 365 and the Crow Canyon IT Help Desk System to request new hardware, installation, and initial on-ramping support post-installation.
The workflow may look as follows:
A SharePoint-originated request is entered via a form that gathers basic identifying data, such as severity and category (e.g., Normal | Tech Support).
The request includes several sub-tasks, such as a new hardware request, installation request, and basic new user training. As part of the NITRO™-powered backend configuration, tickets can include an approval process.
The request is converted into a ticket.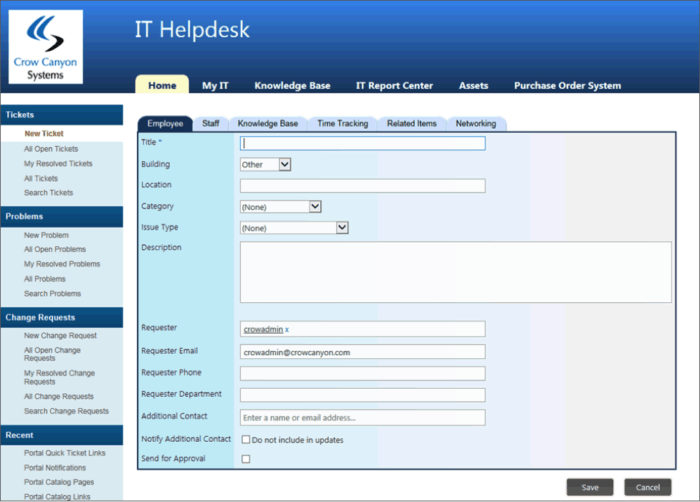 Using the SharePoint-integrated IT Help Desk to create a new ticket
The requestor is automatically informed via e-mail that his or her request has been logged and is now a trackable ticket.
The ticket is assigned to a technician — the process can be manual or the ticket can be automatically routed. The assignee(s) can be a person, a group of people, a team, department, etc.
The ticket is initially received by the Procurement Department which uses both the IT Help Desk and Asset Management (seamlessly integrated) to confirm availability of the requested hardware. The Procurement Officer uses the ticketing system to ask some basic questions of the requestor before placing the order — this conversation, along with all other data created during the workflow, is saved for future tracking & analysis.
The ticket is then automatically routed to the Procurement Manager who approves the hardware request, after which it is auto-routed to the IT Support team.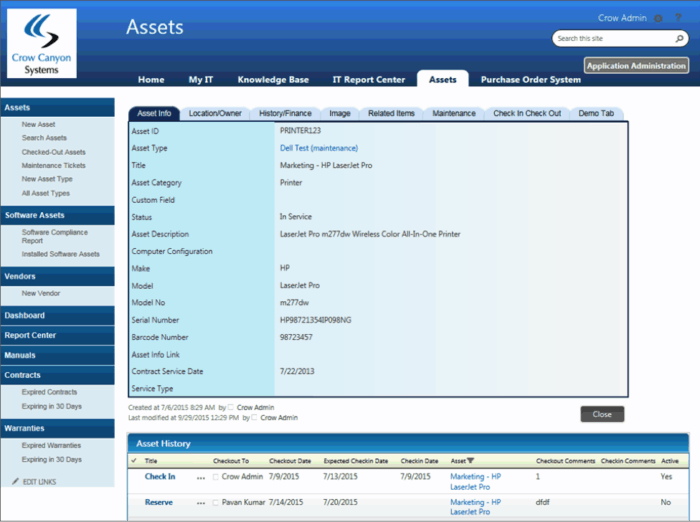 Using the Asset Manager to research hardware availability
The IT Support team then uses Office 365's Outlook app to check the requestor's availability before suggesting installation and training dates. Office 365, Outlook, and Crow Canyon apps are integrated to facilitate communications that can be analyzed for future reporting purposes. When scheduling the training, the Support Team uses the IT Help Desk's built-in knowledge bases to share pre-training documentation with the requestor.
After these steps, the ticket enters a pending state while all remaining tasks are in-progress (e.g., waiting for hardware to arrive, waiting for installation, waiting for training).
All tickets include alert notification capabilities. In this case, automatic notifications are used to remind the IT Support Team to update the ticket after tasks are completed.
When all tasks are done, the ticket can be automatically closed or can even undergo a final approval process to ensure that the requestor's needs have been met to management's satisfaction.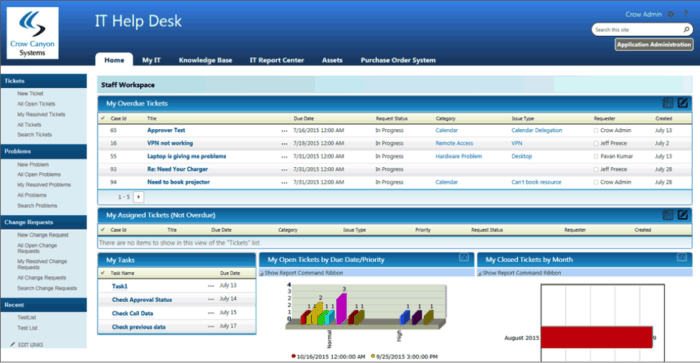 IT Support Staff Dashboard: Checking for overdue tickets
Conclusion
Crow Canyon's unique NITRO™ application layer is comprised of Three Pillars: UI/UX, Workflows & Processes, and Reporting & Analytics. A key highlight found in all Three Pillars of the NITRO™ layer is the level of configurability available. Workflows, such as the one presented above, can be modified and created according to your organization's needs. You may wish to automate some steps while opting for manual selection in others, notifications & alerts can be turned on or off, and any options throughout the process (approvals, routing) can be tweaked and changed as needed. In sum, you are in complete control of how your business workflows are implemented.
—
Want to learn more about how our solutions can help your company engage with your customers and/or users? Give us a call at 1-925-478-3110 or contact us by e-mail at sales@crowcanyon.com